Online marketing communities are excellent places to gain fresh perspectives, stay on the pulse of trends, learn from seasoned marketers and founders, and have watercooler conversations with like-minded folk.
But with the wealth of groups to choose from, finding the right one to join can be overwhelming if you're new to the space.
To help, we joined some popular marketing communities and cherry-picked our favorites.
Here's what made the cut, in no particular order:
Community type: Slack community
Who it's for: Experienced growth marketers, startup founders, consultants
Cost: Free (Apply for an invite)
Sign-up link: Website
Member count: ~3k (free community); >30k (newsletter + marketing course)
---
Demand Curve is a Y Combinator-backed company that supports startups through its biweekly newsletter, playbooks, and programs. Its free private Slack group comprises mostly experienced marketers, many of whom are founders of—or growth leads at—tech companies including Microsoft and Zendesk.
The brains behind Demand Curve are experts themselves: founder Julian Shapiro is an active angel investor whose open-source work has been featured in Forbes, while co-founders Justin Setzer and Neal O'Grady previously held growth roles at Grammarly and customer data platform Segment, respectively.
Within the community are 17 channels that dive into topics such as #analytics-and-data, #b2b, #product-and-marketing, and #fb-ig-ads. The well-organized space makes it all the easier to search for information or get help from the right people, and while discussions can get fairly technical, responses are often timely and insightful. For instance, you might find questions on influencer marketing tactics in #ecom-and-influencers, and discussions on email newsletter sponsorships in #growth-strategy.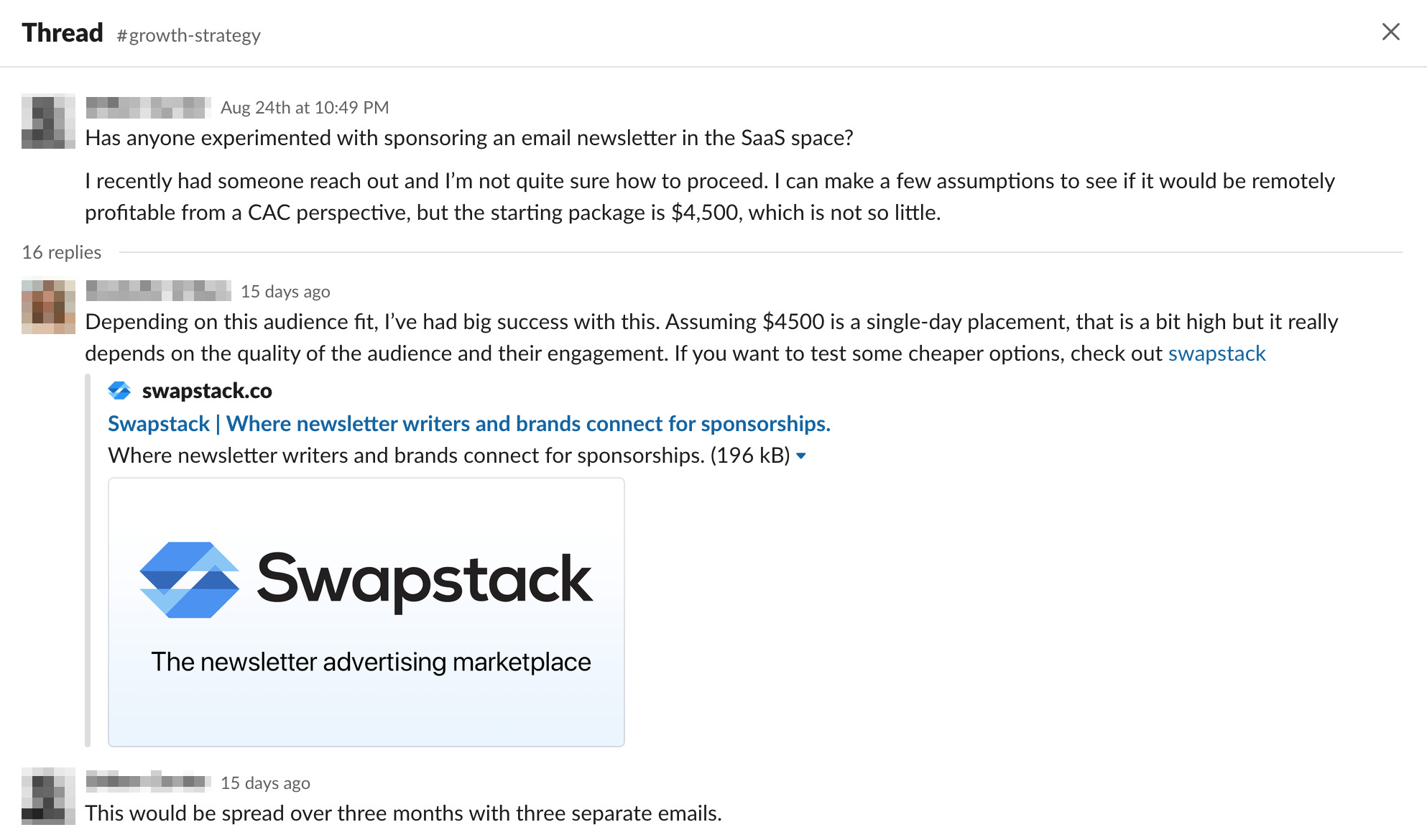 Community type: Circle, a community platform
Who it's for: B2B marketers and entrepreneurs
Cost: From US$99/year for access to the private community (includes 7‑day free trial)
Sign-up link: Website
Member count: >500 (paid); >6.3k (free newsletter)
---
Founded by Corey Haines—a marketer and podcaster who formerly led the Growth arm at Baremetrics—Swipe Files focuses mainly on marketing, growth and audience-building, with the purpose of building friendships, not leads.
For a taste of what to expect, start with the free weekly newsletter or take the 7‑day trial to unlock free access to the private community. Discussions are split into 11 channels, including General, Learning, Wins, Asks, Challenges, and Gigs.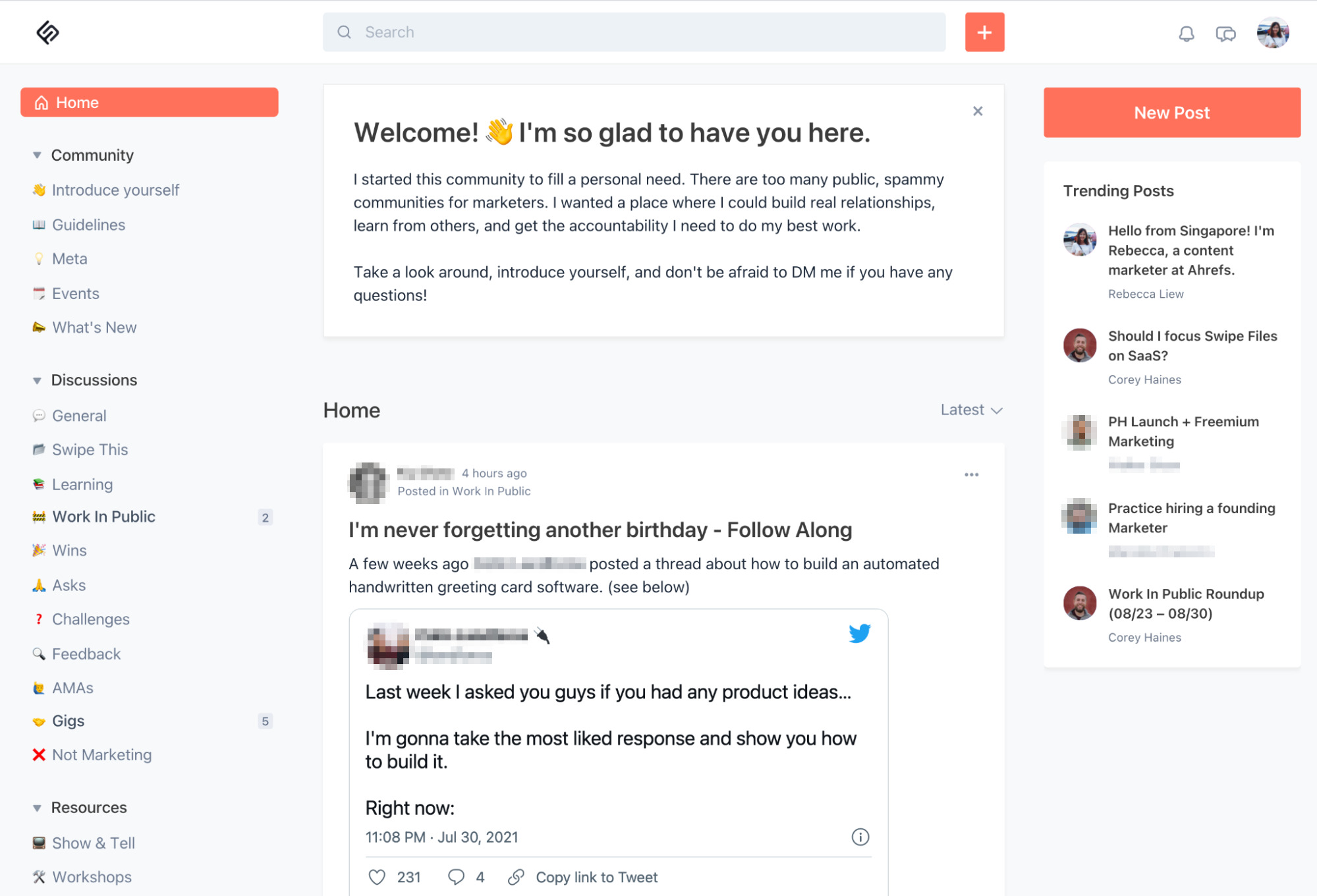 I particularly like how friendly the community is: Haines personally welcomes new members and actively engages in discussions across all channels, while members primarily discuss SaaS-related or B2B marketing topics. Free-flow conversations also take place in the Not Marketing channel.
Beyond the community, be sure to use the repository of marketing resources on the main website, which includes a master swipe file of over 1,000 ideas for marketers to take notes from.
Community type: Facebook group and Slack community
Who it's for: Women in the technical SEO space
Cost: Free
Sign-up link: Facebook, Slack
Member count: >2.7k (Facebook); >1.7k (Slack)
---
Women-only online communities aren't exactly new territory these days, but they sure are in the marketing world. Areej AbuAli was quick to fill this gap when she founded Women in Tech SEO (WTS) in 2019. As its name suggests, WTS aims to encourage women in the technical SEO space to help each other, no matter their career stage.
The official website offers followers a slew of resources, including blog posts, podcasts, and weekly interviews with women in the industry. For a little more help, though, try the Facebook group or Slack community.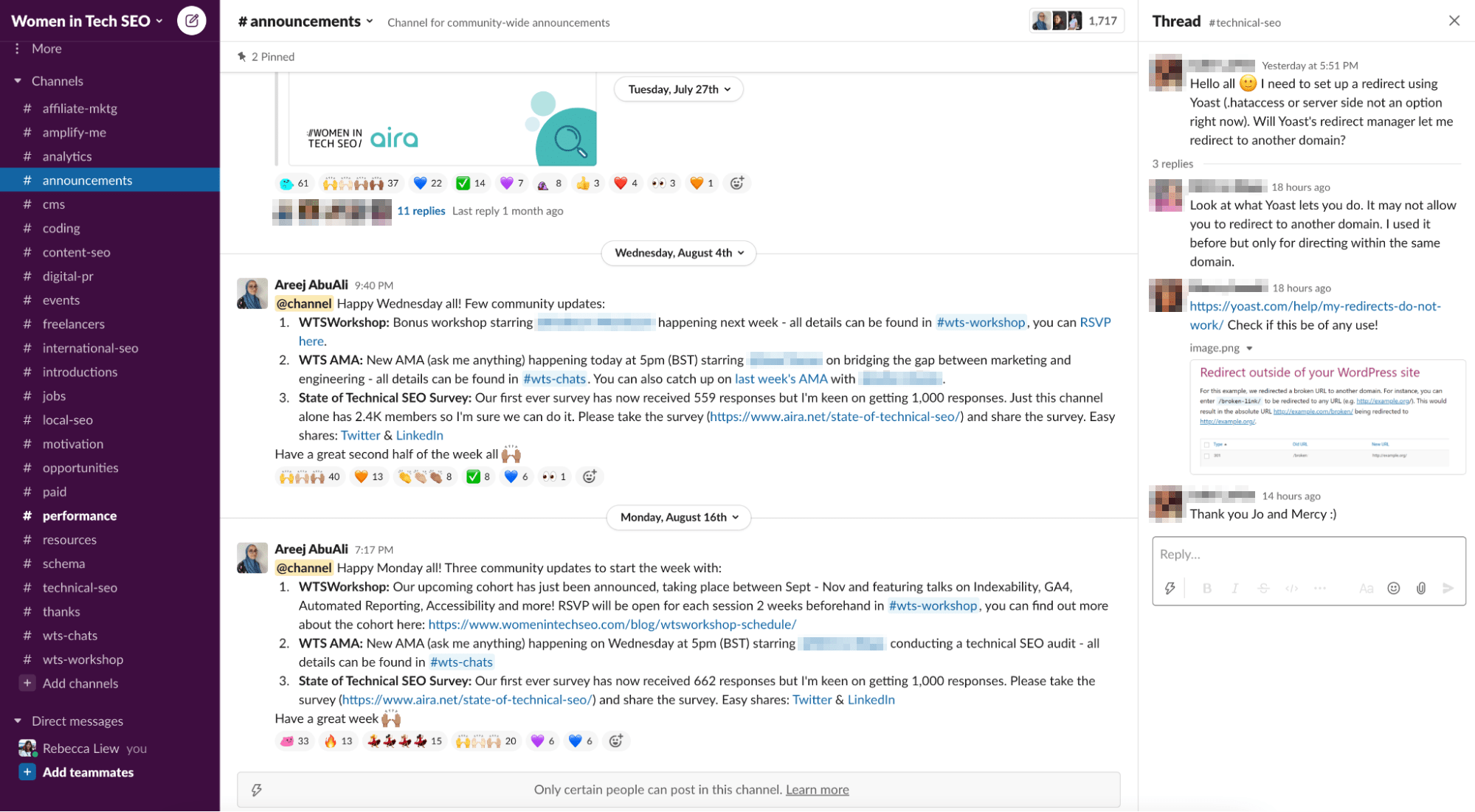 The latter comprises 24 channels, which give members answers to specific questions on everything from #content-seo and #analytics to #technical-seo, #schema, and #cms. What I like is the community's enthusiasm in exchanging knowledge and showing their support through emoji reactions. Threads that attract the most engagement are often from founder AbuAli, who posts weekly announcements and updates on WTSWorkshop talks.
Over on Facebook, expect up to five posts a day—with discussions centering on SEO strategy, basic SEO tactics, and the more technical stuff like hreflang tags or Google Search Console.
You'll also find occasional job postings and sharings on success stories, and from what I've gathered, the community's a supportive and helpful one. That's a plus in our books.
Community type: Subreddit
Who it's for: Anyone interested in marketing and advertising
Cost: Free
Sign-up link: Reddit
Member count: >365k
---
If I could choose one go-to community for timely, useful, and basic marketing advice, it'd be this subreddit.
Unlike most groups, having a Reddit account is the only prerequisite for joining the community, making it a more accessible platform to bounce ideas off professionals or seek career advice on thriving as a marketer.
With over 360,000 members—comprising business owners, agency folk, and aspiring or seasoned marketers—there's a whole lot to learn, given the breadth and depth of topics discussed and the fact that community engagement is high. While the content admittedly isn't so well-moderated, you'll quickly find answers to questions on all things SEO, content and brand marketing, media planning, and UX/UI, to name several.
There're a host of resources worth checking out, too, all of which can be found on its pinned content board. And if you're looking for a similar community that's a little more niche, check these out:
Community type: Facebook group and events
Who it's for: Marketers, freelancers, and entrepreneurs
Cost: Free
Sign-up link: Facebook and Events
Member count: >2.7k
---
A canteen in Cambridge, England, and a self-dubbed 'nervous networker': These were the ingredients that led to the birth of The Marketing Meetup (TMM) in 2016 when founder Joe Glover organized a casual event over food.
What began as a marketing get-together has today evolved into an almost 25,000-strong community—and its members are treated to weekly online events that have featured the likes of Catherine Newman, Chief Marketing Officer at Manchester United, and Harry Dry, the brains behind newsletter favourite Marketing Examples.
For more intimate discussions on all things marketing-related, turn to its Facebook community:
Here, entry-level and experienced marketers exchange advice and recommendations on industry tools, career paths, and topics spanning content marketing, brand strategy, email marketing, and growing a business.
One bonus: a monthly jobs thread for members looking to hire or be hired: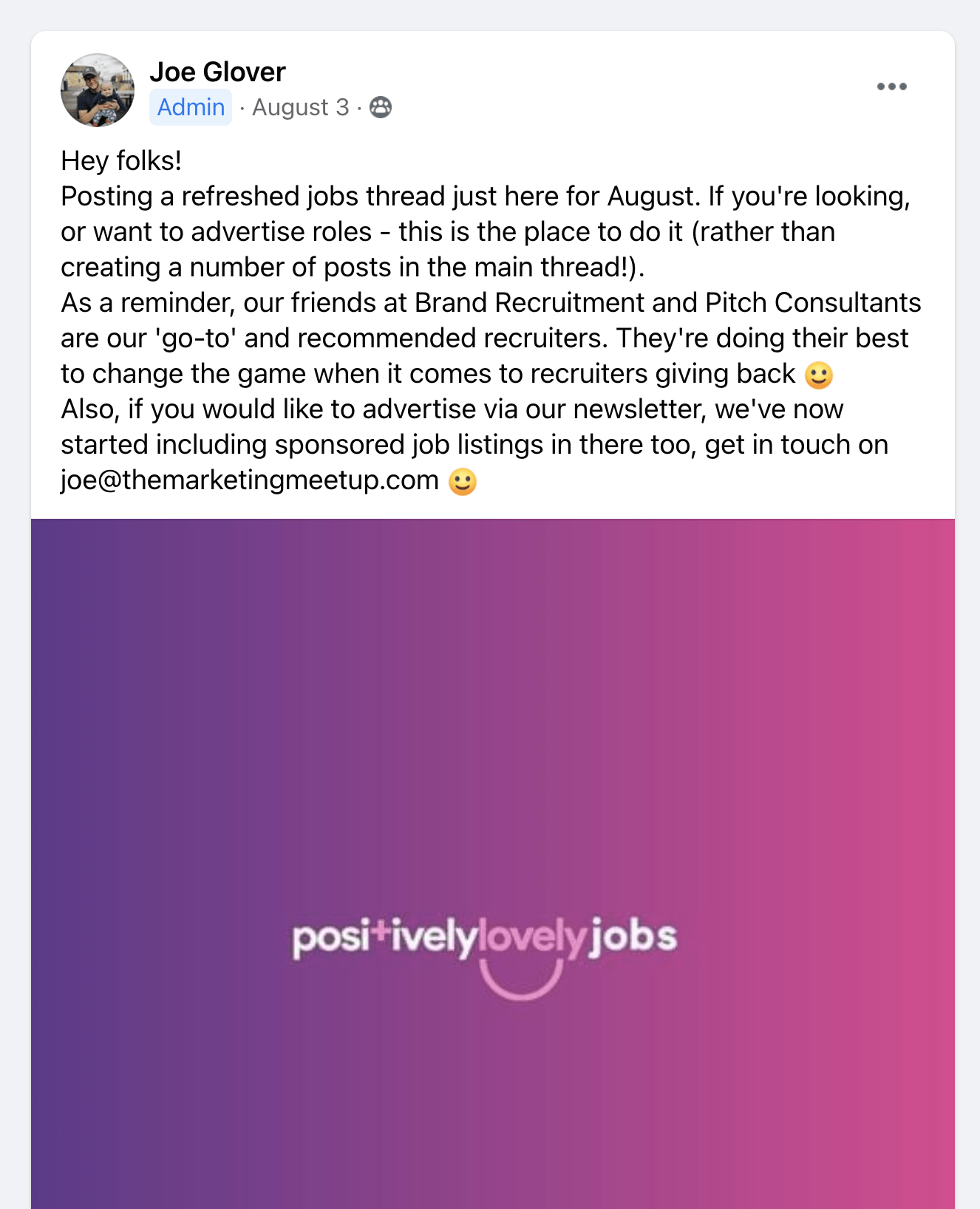 I also like that TMM emphasizes and encourages positivity—something that its members respect and deliver on, from what I've gleaned.
Community type: Facebook group
Who it's for: B2B marketers
Cost: US$10/month; cancel anytime (Once payment is complete, you'll get an invite to join the private group via email)
Sign-up link: Website
Member count: >2.6k
---
Dave Gerhardt is something of a micro-influencer in the marketing space, and for good reason: He led growth at conversational marketing platform Drift from the time of its founding in 2015, went on to helm marketing efforts at SaaS tool Privy, then returned to Drift as Chief Branding Officer.
Naturally, you'd expect the seasoned marketer to take things a step further—by making a brand of his name.
The DGMG Facebook group comprises a small but helpful community of paying subscribers, many of whom are employees at Slack, TikTok, HubSpot, and more. So expect quality discussions and sharings on copy and content strategy to branding, social media, design (UI/UX), and recommendations for jobs, marketing books, and software.
From time to time, Gerhardt weighs in on these discussions or shares marketing tips: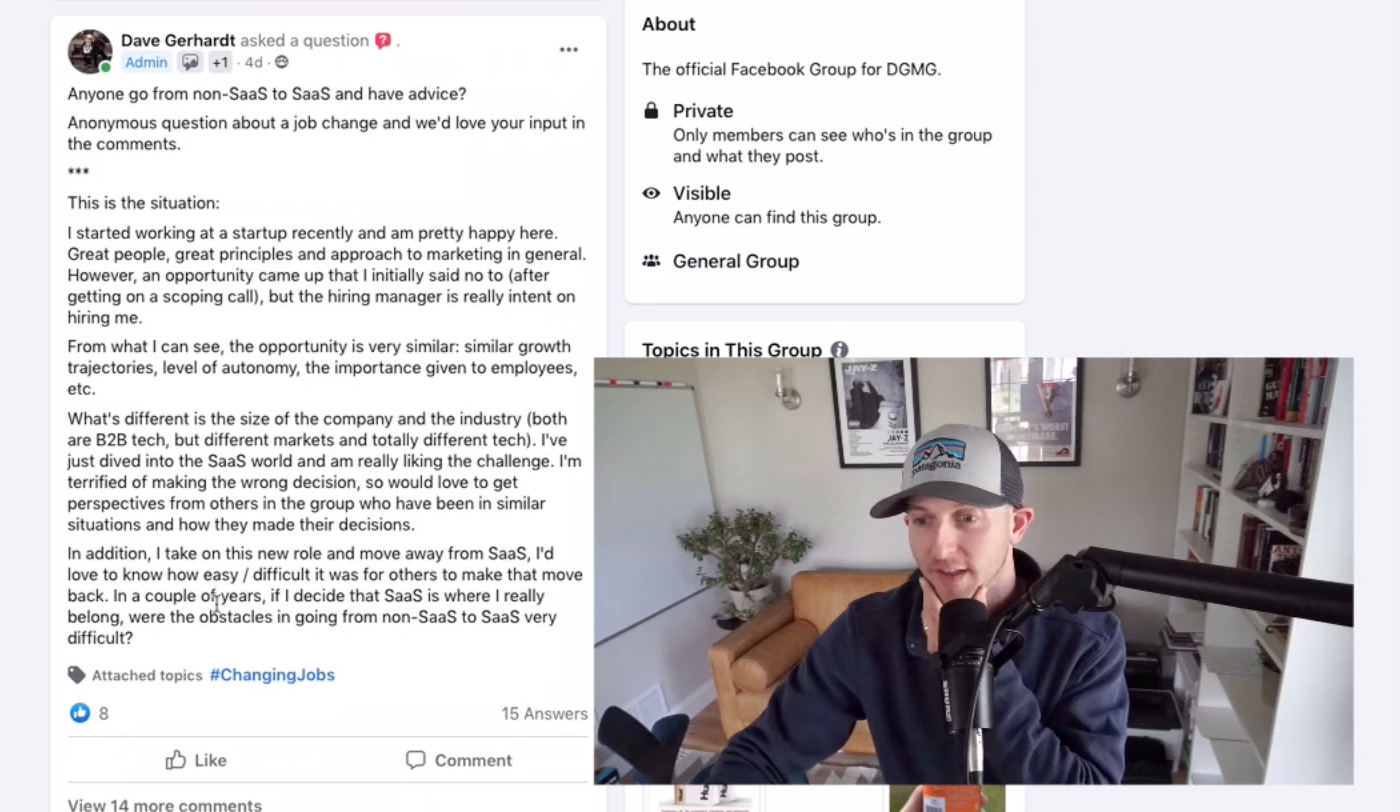 One recent addition to the community that I like is the live masterclasses that members can participate in, with marketing-related topics selected based on votes.
Community type: Slack community
Who it's for: Content marketers and founders
Cost: Free (Apply for an invite)
Sign-up link: Airtable
Member count: >3k
---
You know you've landed on something good when a marketing community has members from well-known tech companies, including Shopify, Udemy, Intercom, and HubSpot.
It's also no coincidence that Superpath was mentioned twice in response to our CMO Tim's tweet on recommendations for marketing communities.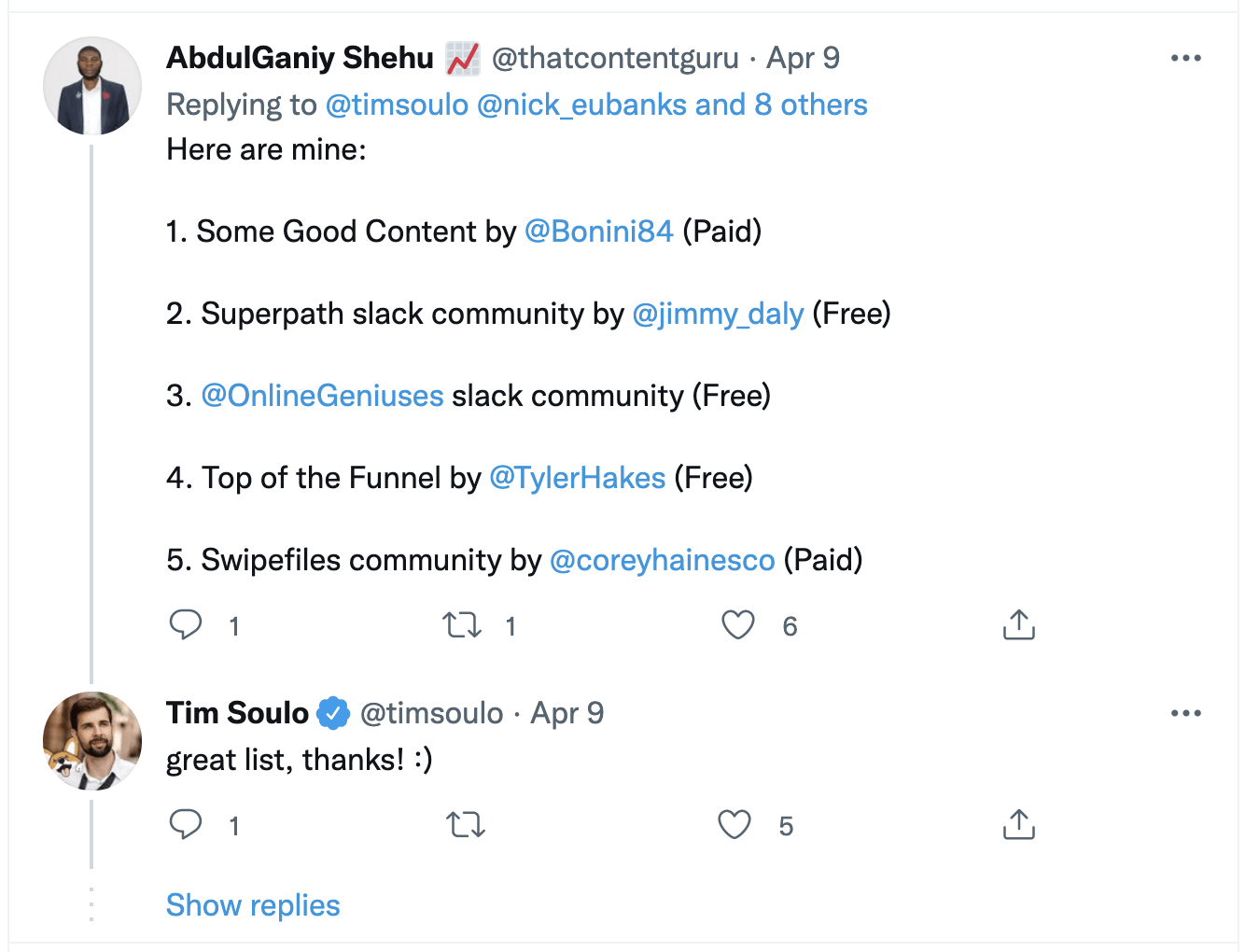 Unlike most of the groups that made this list, Superpath focuses on content marketing—a topic about which founder Jimmy Daly honed his expertise through his years of experience at B2B SaaS companies. I'm a big fan of founders who make the extra effort to engage with the communities they've built regularly, and Daly does just that by sharing weekly updates on what he's been up to, in-community discussions he found interesting, and updates on Superpath.

Its members are likewise supportive and welcoming, with a good number of them actively offering detailed feedback to both new and experienced marketers.
The community has 20 channels. That may sound excessive, but not in this case, considering the technical nature of discussions on channels like #seo-talk or #b2b-content-chat. Other notable channels are #writing-feedback, #watercooler, and #team-mgmt, the last of which discusses team structuring practices and talent retention.
Final thoughts
These aren't the only marketing communities we love. We have yet more favorites that we didn't include (including Ahrefs Insider, of course!) because we already mentioned them in these posts:
Finding the right community takes time, so patience is key. Join as many relevant groups as you can, peruse the conversations, and pose questions to gauge how you feel about the topics discussed and the depth of the content.
You might even want to reach out to the founder(s) via Twitter or Facebook to learn about the community's backstory. Going in with an open mind is key: There's always something to learn, even if you consider yourself an experienced marketer.
Got questions? Ping me on Twitter.