Do you want to start marketing your business but don't know where to begin?
You're not alone.
Small businesses make up over 90% of all businesses in the U.S., U.K., and Europe.
So if you're struggling to get noticed or generate inquiries or sales from potential customers, this guide will show you how to market your small business effectively step by step.
Marketing begins with the products or services you sell and who they're for. Here are the key steps:
Specify what problem your product or service solves for your target customers
List the top features your product or service will include
Turn those features into benefits
Create a one-page document or landing page outlining your product/service to get initial feedback from a small group of customers
If you want to dive deeper, read our detailed guide to creating product-market fit.
Now, let's take a look at a few product-fit examples from different industries.
Services
This construction company has three clearly defined services: installing siding, installing windows and doors, and interior remodeling on residential properties.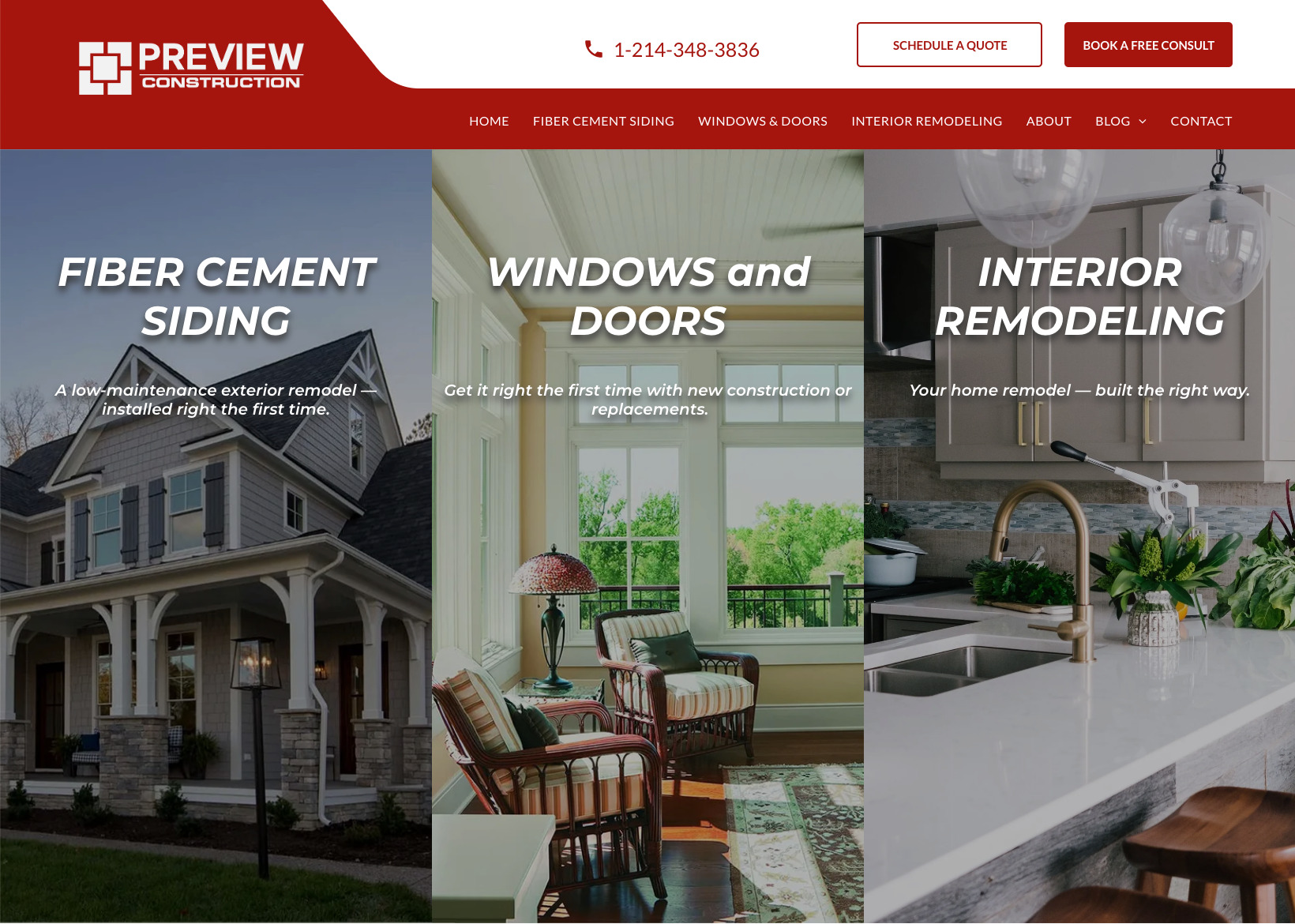 Each service page explains the service benefits and process and contains case studies, customer reviews, and a call to action (to get in touch).
Products (e-commerce)
Companies that don't sell services sell products such as clothing, printed products, vehicle accessories, etc.
For example, this company sells products to enable van owners to customize the top, sides, and internal sections of their work van.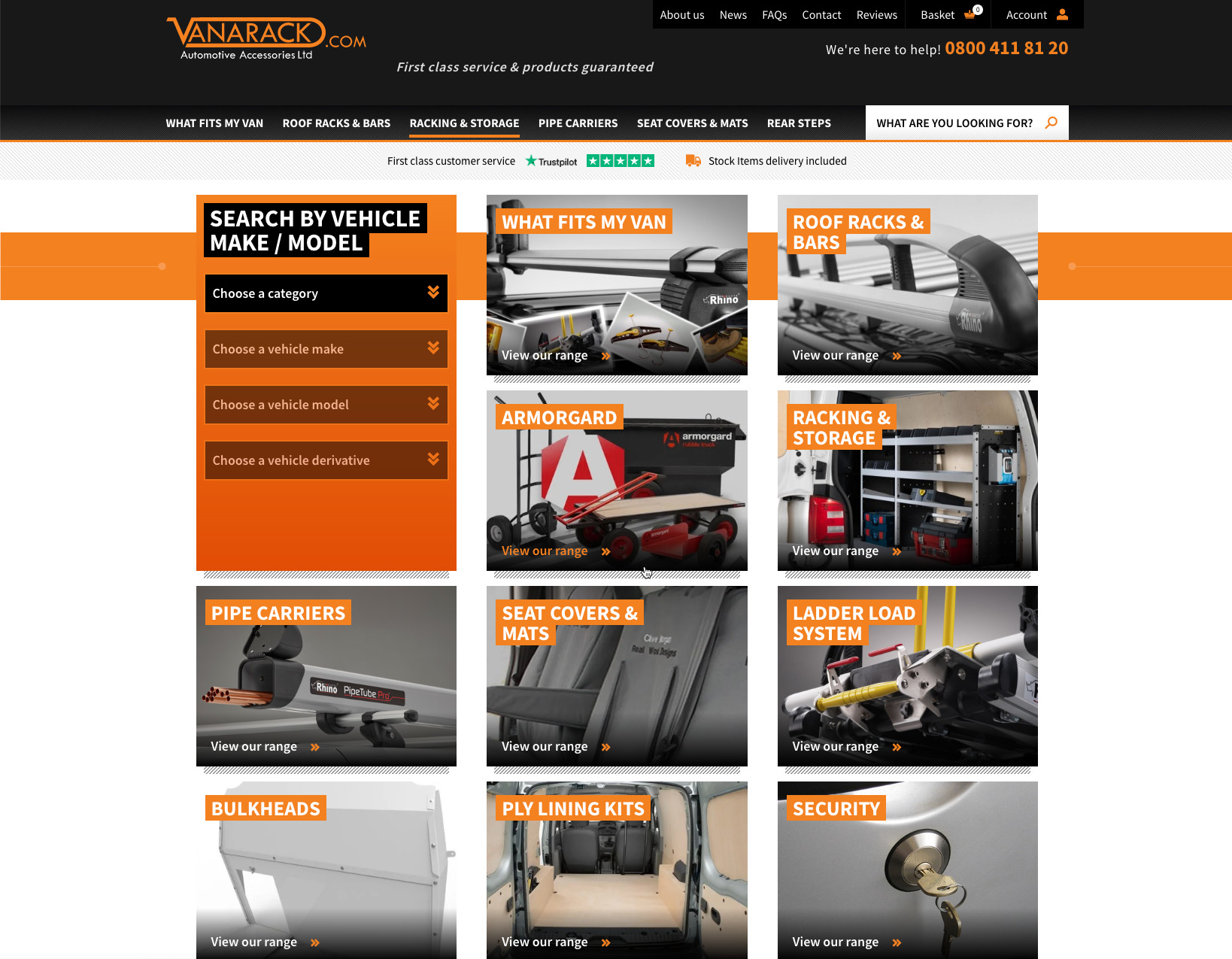 Software (or software as a service)
This company recently launched an app for creating email designs using predesigned email layouts and components.
It has summarized the features of the products, along with examples and directions for getting started, on its landing page.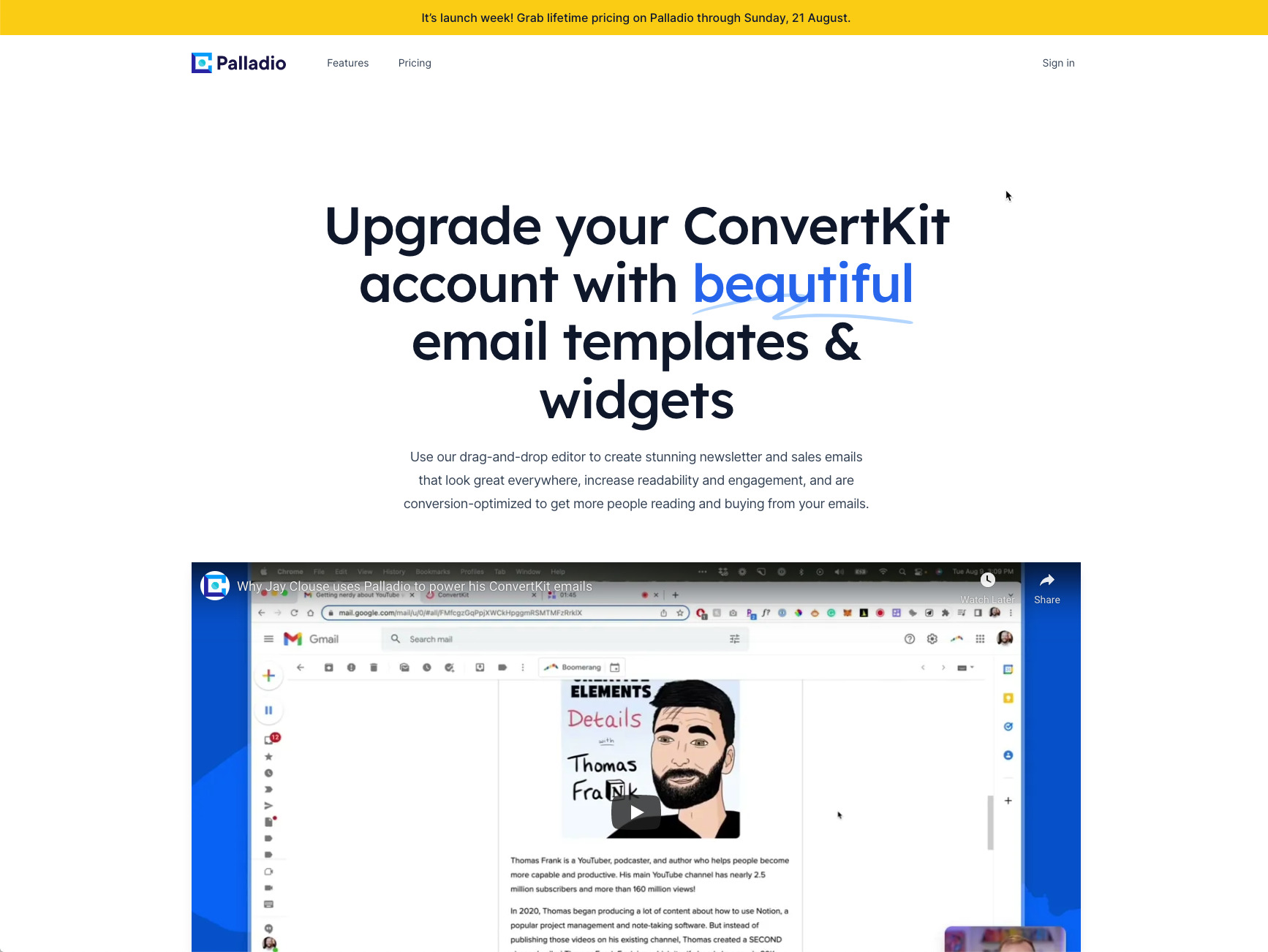 The next step to marketing your business is to consider and decide what to charge customers for your products or services so you make a profit.
For example, if you sell physical products, your pricing strategy may be to mark up the product's manufacturing, shipping, and delivery costs to make a profit.
Ahrefs, a software product, is priced at $99, $199, $399, and $999 per month and is based on data costs, customer data usage, and the value it provides.
As an example of pricing services, a user experience (UX) design firm may charge more than a web design firm because its clients perceive greater value in UX design.
And finally, consider what competitors charge and what customers are willing to pay.
Action: In our template, write down the products, services, and prices you want to market.
The next step to marketing your business is to have a clear goal so that you can structure your marketing efforts.
The three main marketing goals are to get new customers, sell to existing ones, and keep customers using and paying for your products or services.
Get new customers (Acquisition)
Sell to your current customers (Upsell) 
Keep existing customers (Retention)
1. Get new customers – Acquisition
If you're starting in business or don't sell to the same customers repeatedly, you'll want to focus on getting new paying customers. That's easier said than done, of course.
Getting new customers consists of four key steps as your customers go through your marketing funnel: You attract your target audience, show them your product as a solution to their problem, make them consider it, and give them a reason to buy.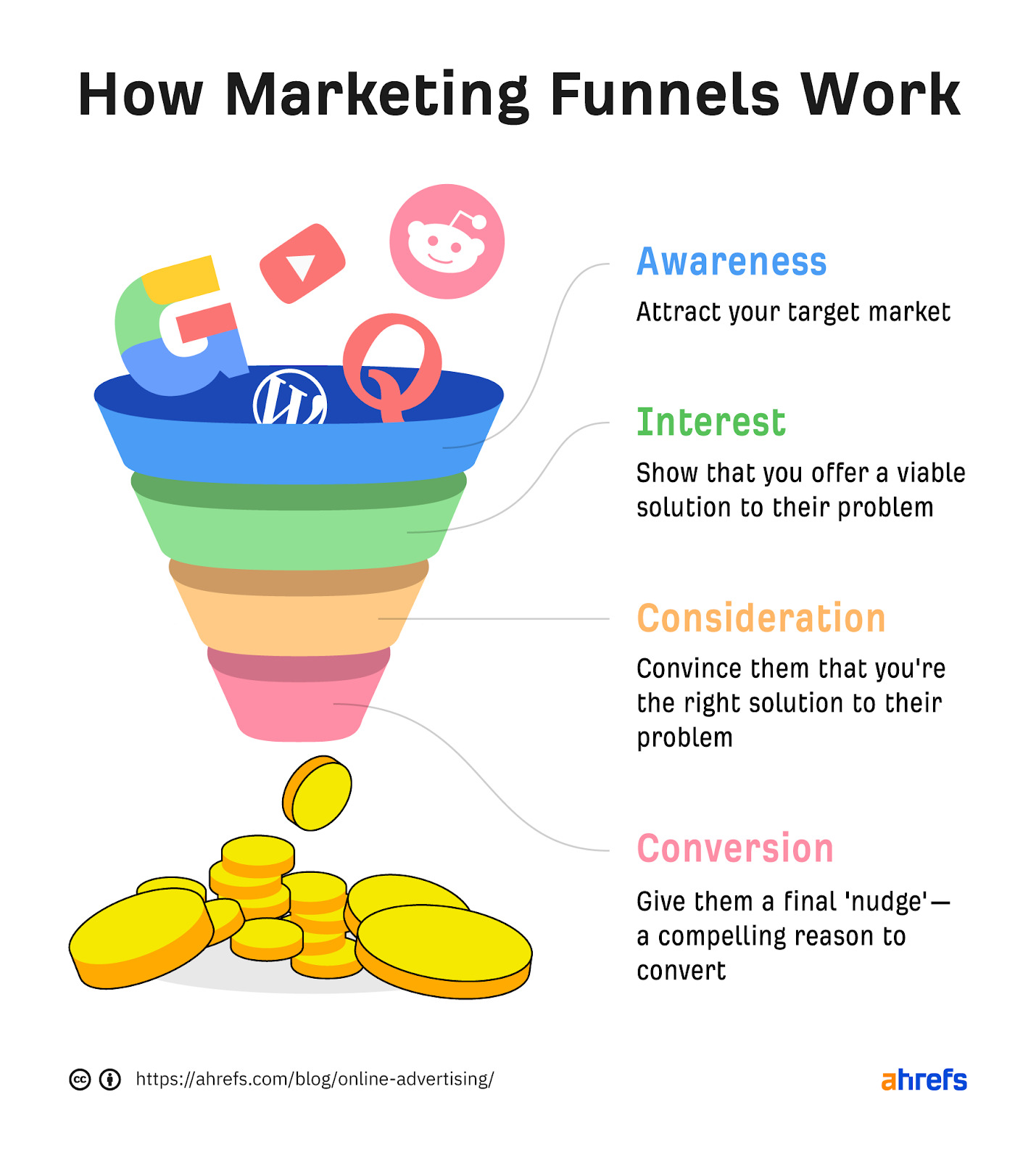 Write down the number of new customers or the revenue you need each month.
2. Sell to your existing customers – Upsell
For more established businesses with a customer base, the goal may be to sell to their existing customers in addition to getting new ones.
For example, I pay Flywheel to host websites for clients. When I log in to my account, it promotes other services or add-ons to its existing customers.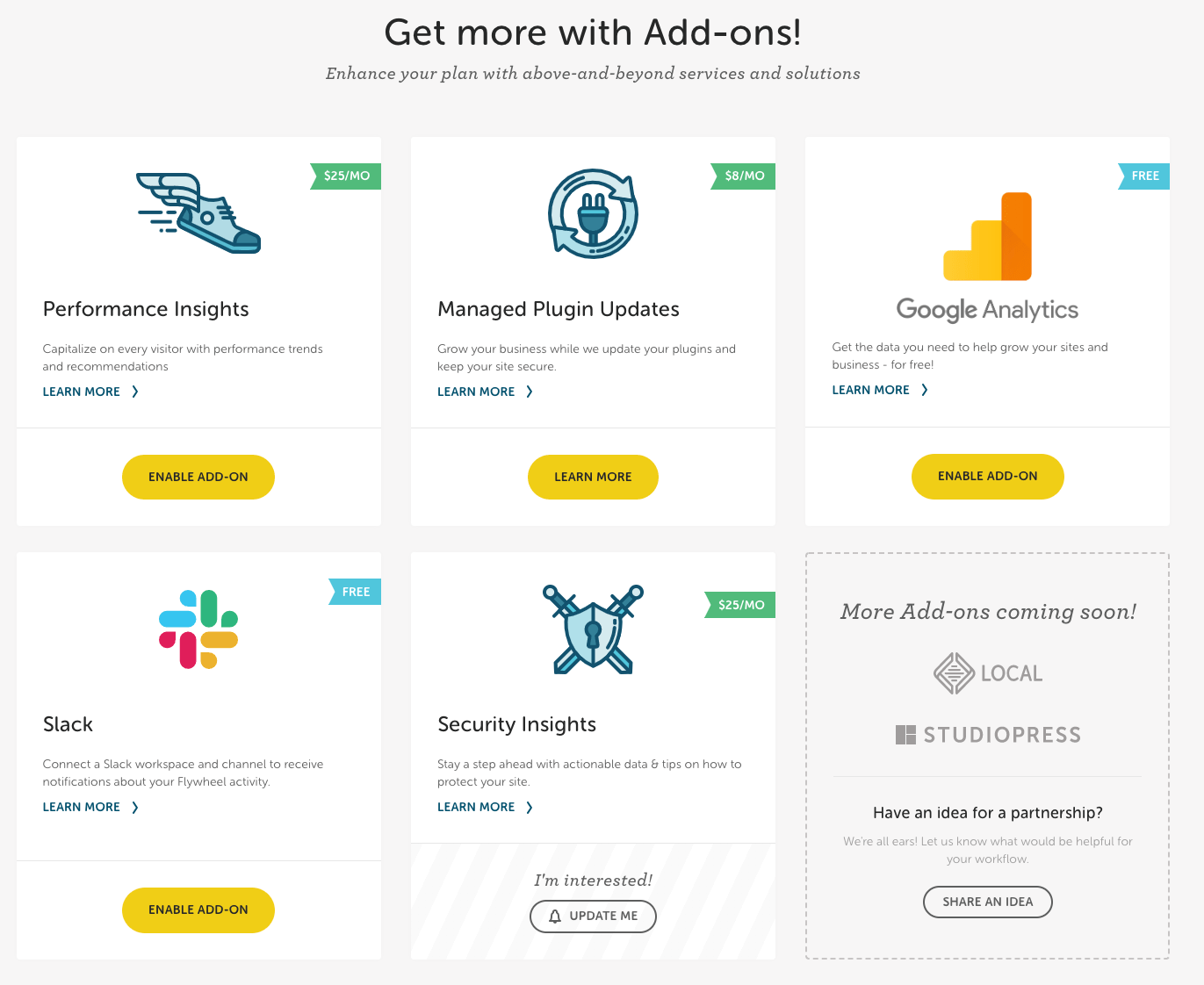 List out any products or services you can provide for your current customers besides your main product or service.
3. Keep existing customers – Retention
Thirdly, if you have lots of customers, you'll need to keep them happy or they'll stop paying you. 
Many companies are so focused on getting new customers that they often forget current ones, i.e., love them and leave them.
Let's say you have 1,000 customers paying you $50 a month; that's $50,000 revenue a month.
But if you're losing 5% of customers a month; that's
50 lost customers every month.
$2,500 lost revenue every month.
To learn more, here's our guide to increasing your retention (in other words, decreasing customer churn).
Action: In our template, add your goal—or goals if you have more than one priority.
Think about all the places where you can sell your products or services.
For example, SaaS businesses, such as Ahrefs, usually sell subscriptions on their websites only.
Whereas a fashion brand like Universal Works sells via its website, social channels, own stores, and partners online and off. 
Here are some of the main online and offline places to sell.
Online
Your website
Integrate your products on social media channels
Marketplaces
Partners
Offline
Physical stores
Telephone
In person
Action: Using our template, in the "Place" column, choose the places where customers can buy your products or services. 
Here are some of the most common marketing channels you can use to promote your products.
1. Website
Your website is the home of your company, products, and services. Website traffic usually results from how well you promote your brand and products. In today's world, pretty much everyone needs a website.
This fashion brand promotes up to 60% off current products on its homepage to make way for the next season's products.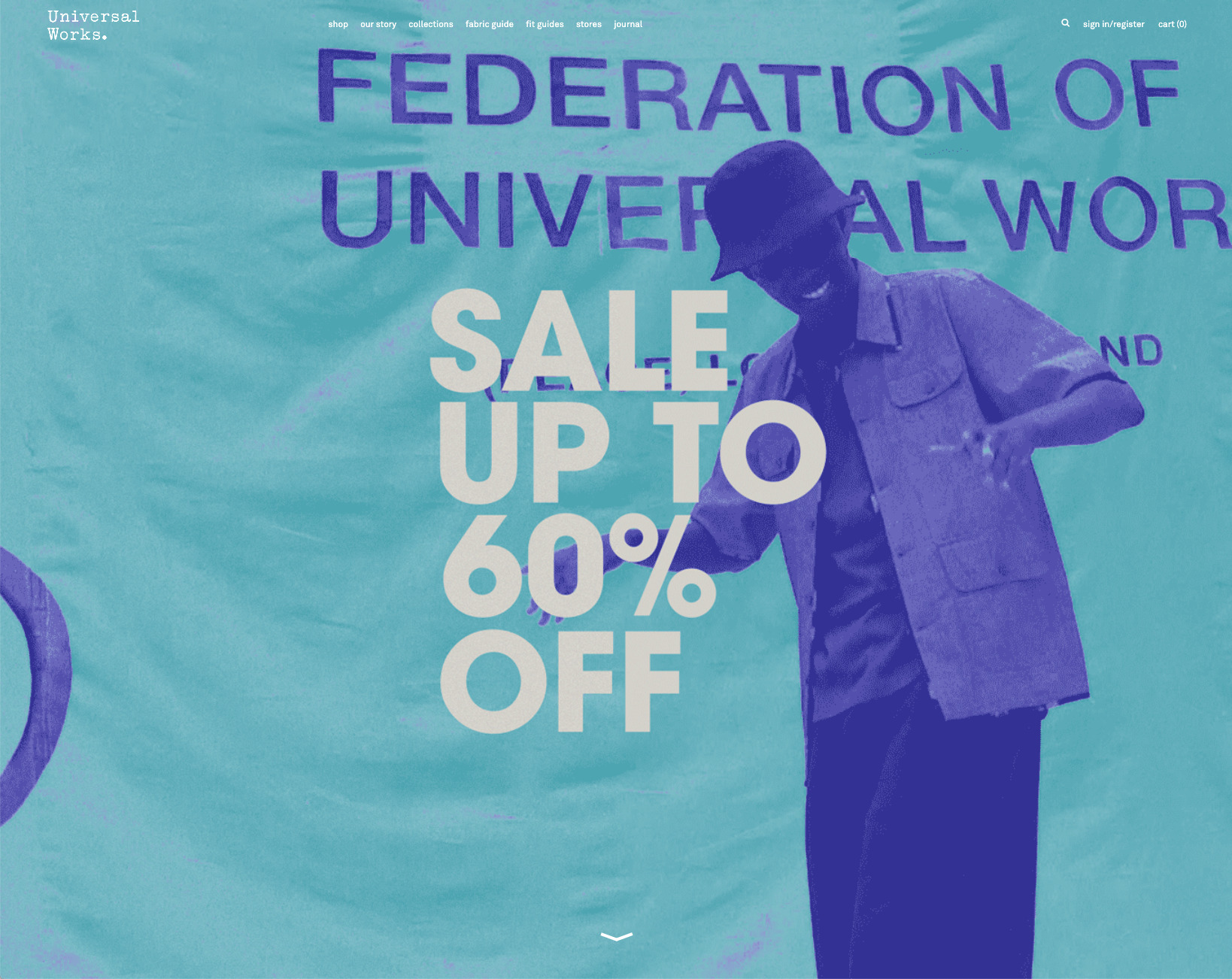 This web designer is getting over 80% of her 5,400 visits to her website from direct traffic, no doubt a direct result of her TikTok followers and video views.
2. SEO and content marketing
SEO (search engine optimization) is the practice of growing a website's traffic from organic search results. If your target audience looks up information related to your products online, you should likely make SEO one of your marketing priorities. That's the case for most businesses.
To market your business to search visitors, you need to do keyword research and create content and links. Here's a high-level overview of what that involves:
Enter a keyword related to your product or service into Ahrefs' Keywords Explorer to discover the questions people ask about your business and the keywords they use when searching online
Create a content plan containing the keywords you're going to target
Use our content outline template to make writing and publishing content in your content plan easier
Use these 15 tactics to get website backlinks, increasing your website rankings and traffic
For local business owners, head to the local SEO guide to learn more. E-commerce owners also need to apply specific e-commerce SEO techniques that are different from general best practices.
3. Email
There are two steps to marketing your business with email. First, you need to get subscribers onto your email list, and then you need to convert them into customers by sending emails.
Getting email subscribers
To get email subscribers, you can include a newsletter or content upgrade sign-up form using any number of email marketing solutions.
For example, this company has a newsletter subscription form at the foot of every page.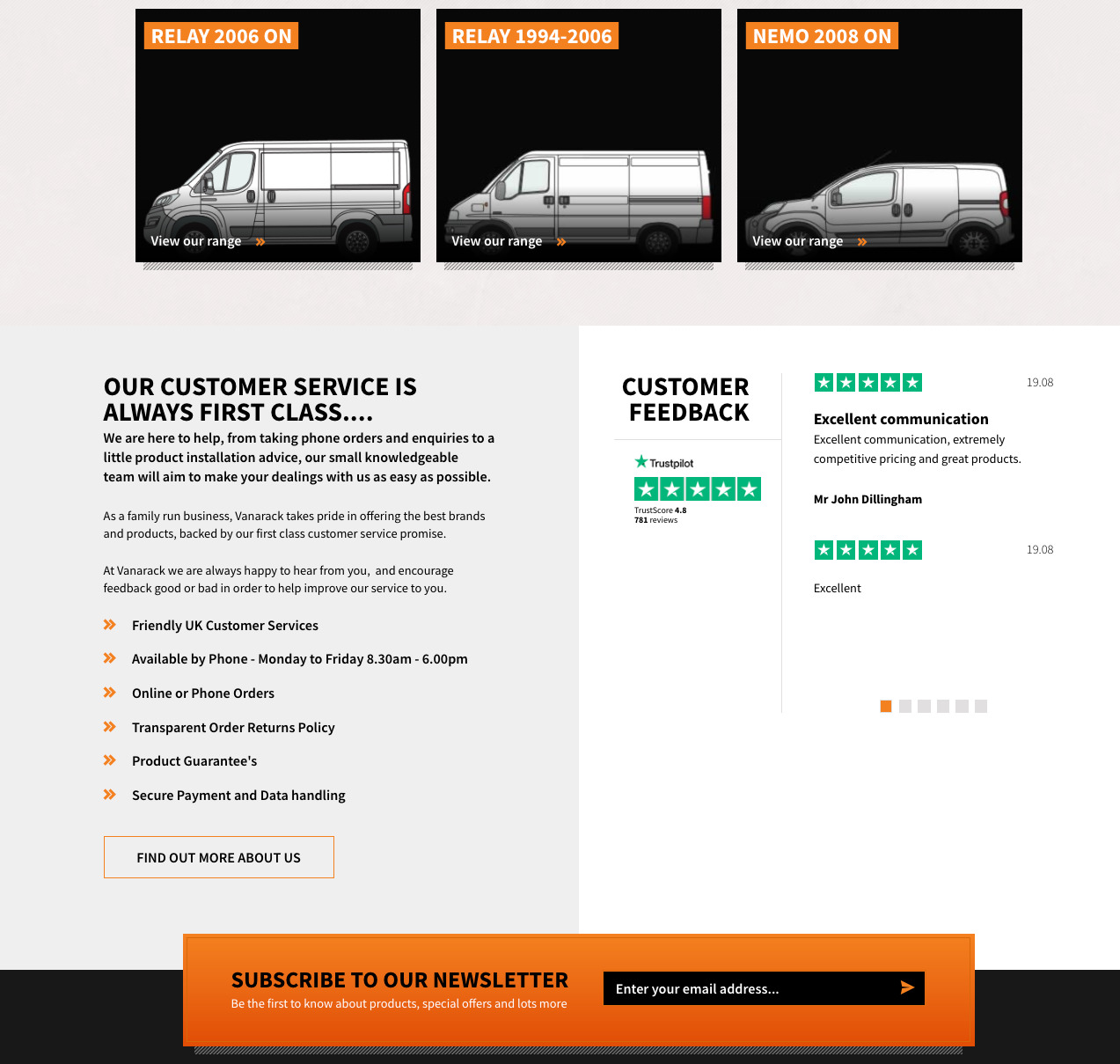 I offer an incentive or content upgrade on some of my webpages in exchange for the reader's email address.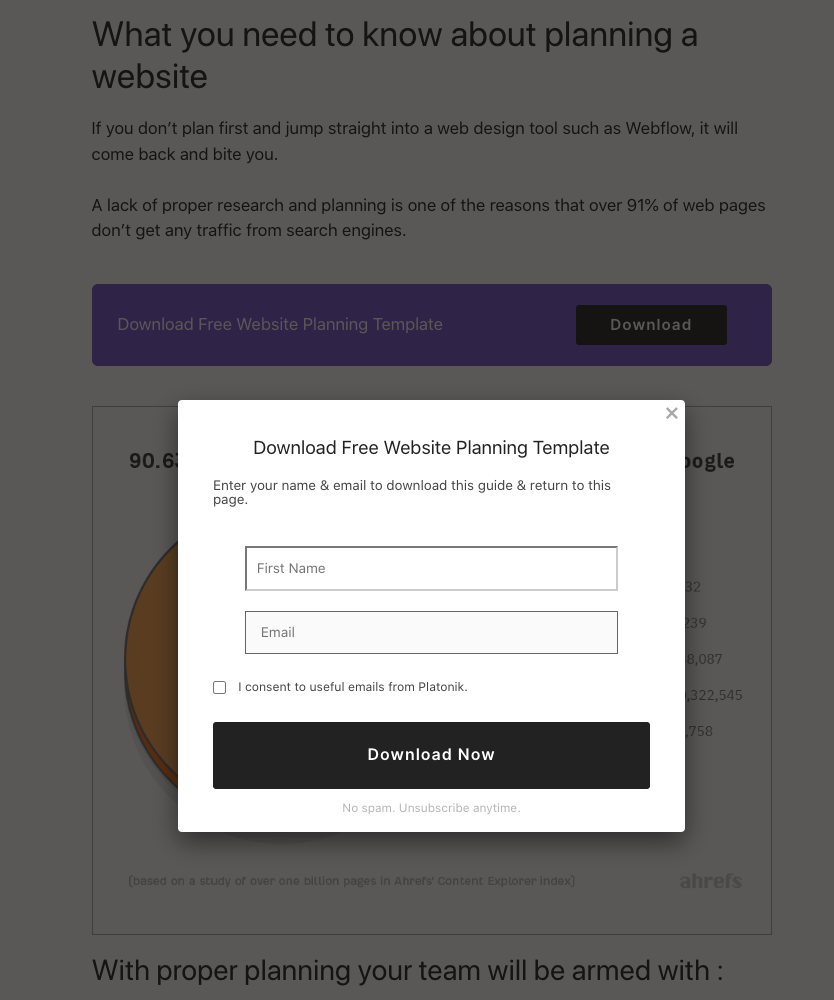 Convert customers by emailing them
Once you've built up a list of opted-in subscribers, then you can begin marketing to them.
In this case study, an e-commerce retailer earns 25% of its revenue by sending welcome, cart abandonment, win-back, and big spender email campaigns to its subscribers and customers.
Here's an email marketing campaign where the company lists four services that can help subscribers; then it includes links to its sales or booking page.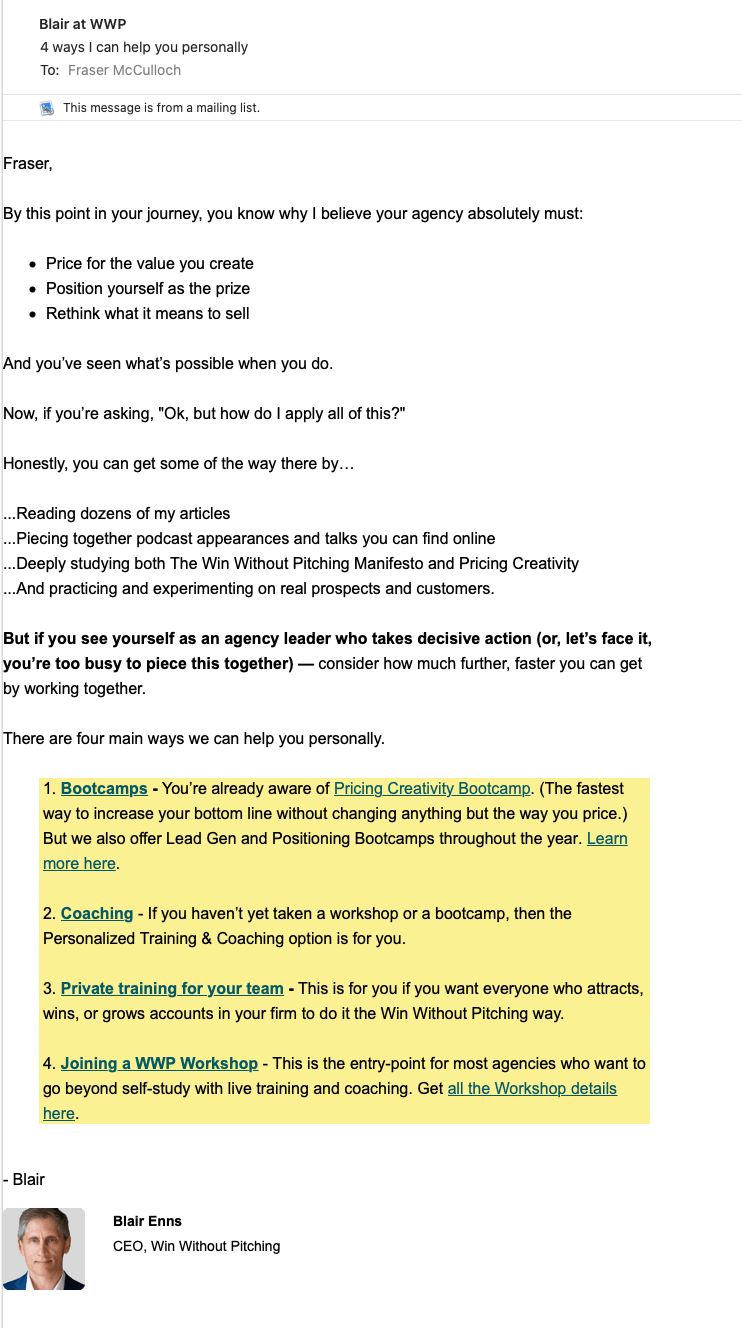 4. Paid search
Paid search or PPC (pay-per-click) advertising is where companies pay a fee each time someone clicks their adverts in the search results.
Paid search is an excellent option if you have marketing money to spend and you're looking for immediate website traffic that can drive leads or sales.
For example, this report shows a company has derived over 46% of its revenue from paid search this year.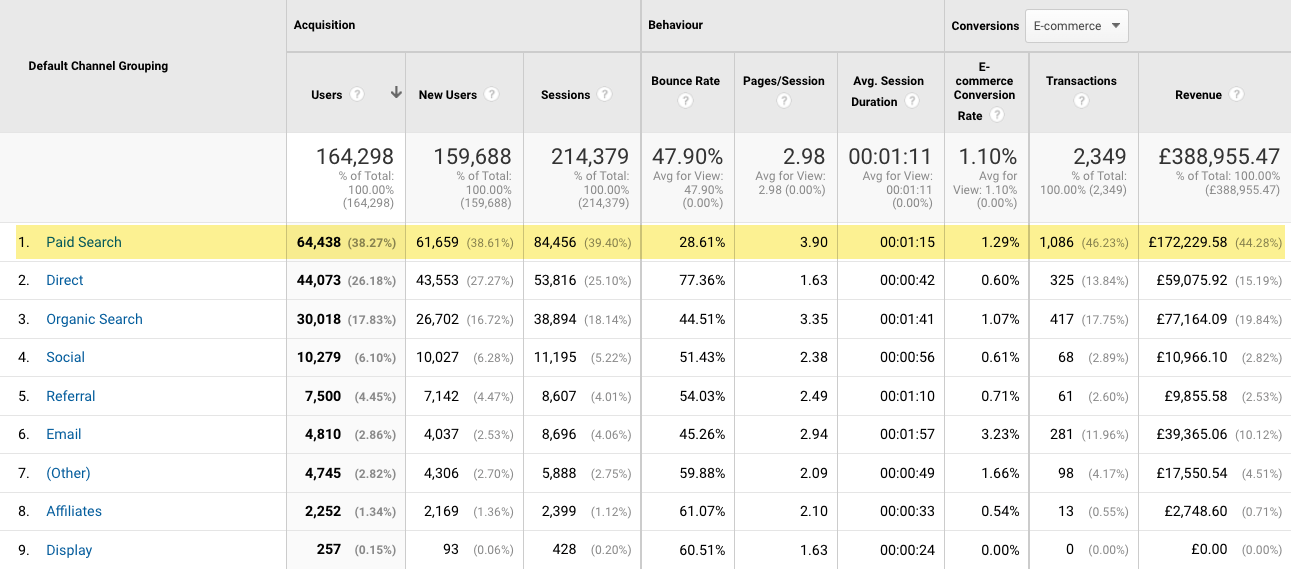 Head over to our PPC marketing guide if you're looking to start using paid search ads.
This fashion retailer is advertising with Facebook Ads.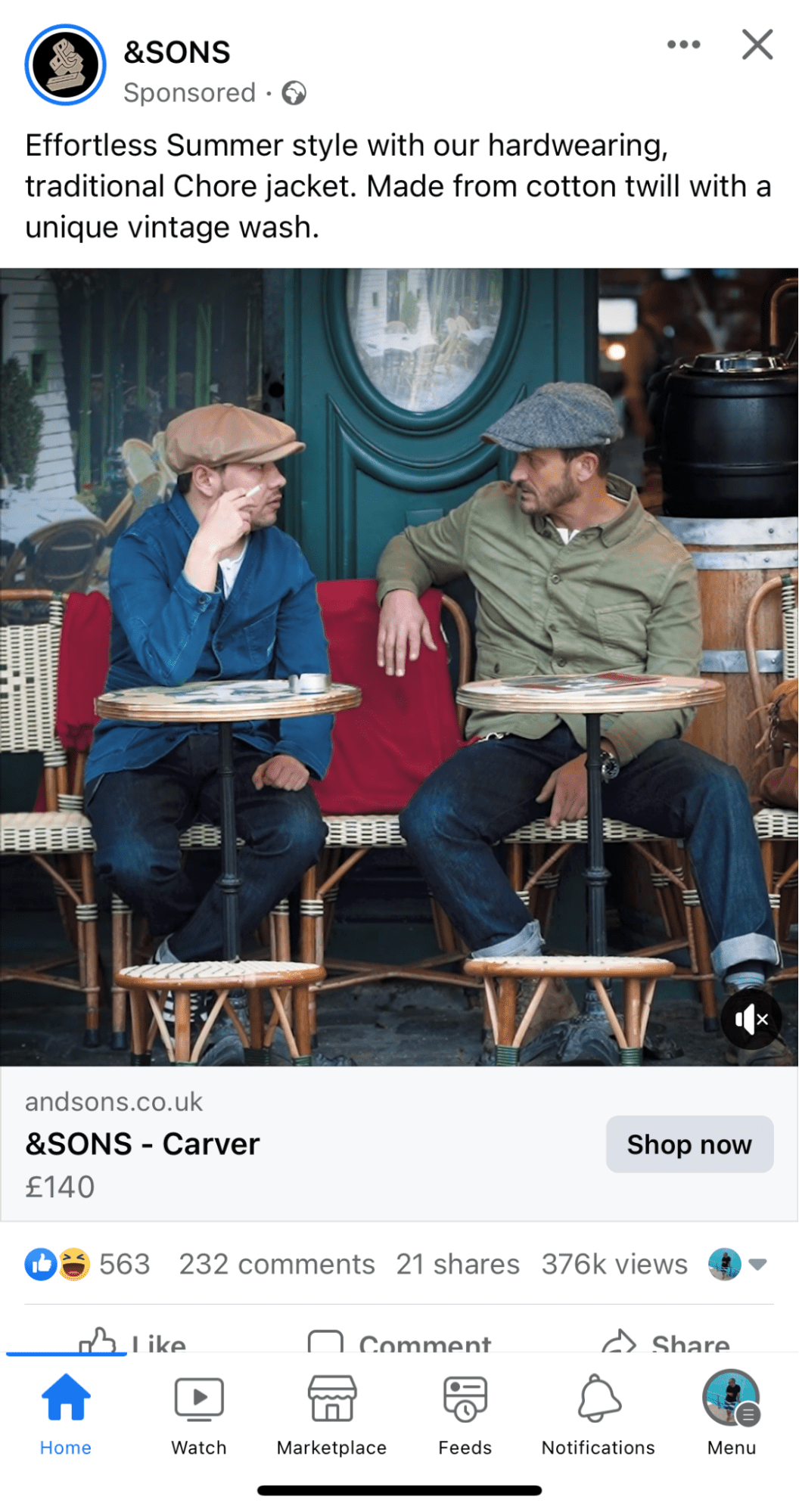 And it is also advertising with Google Ads.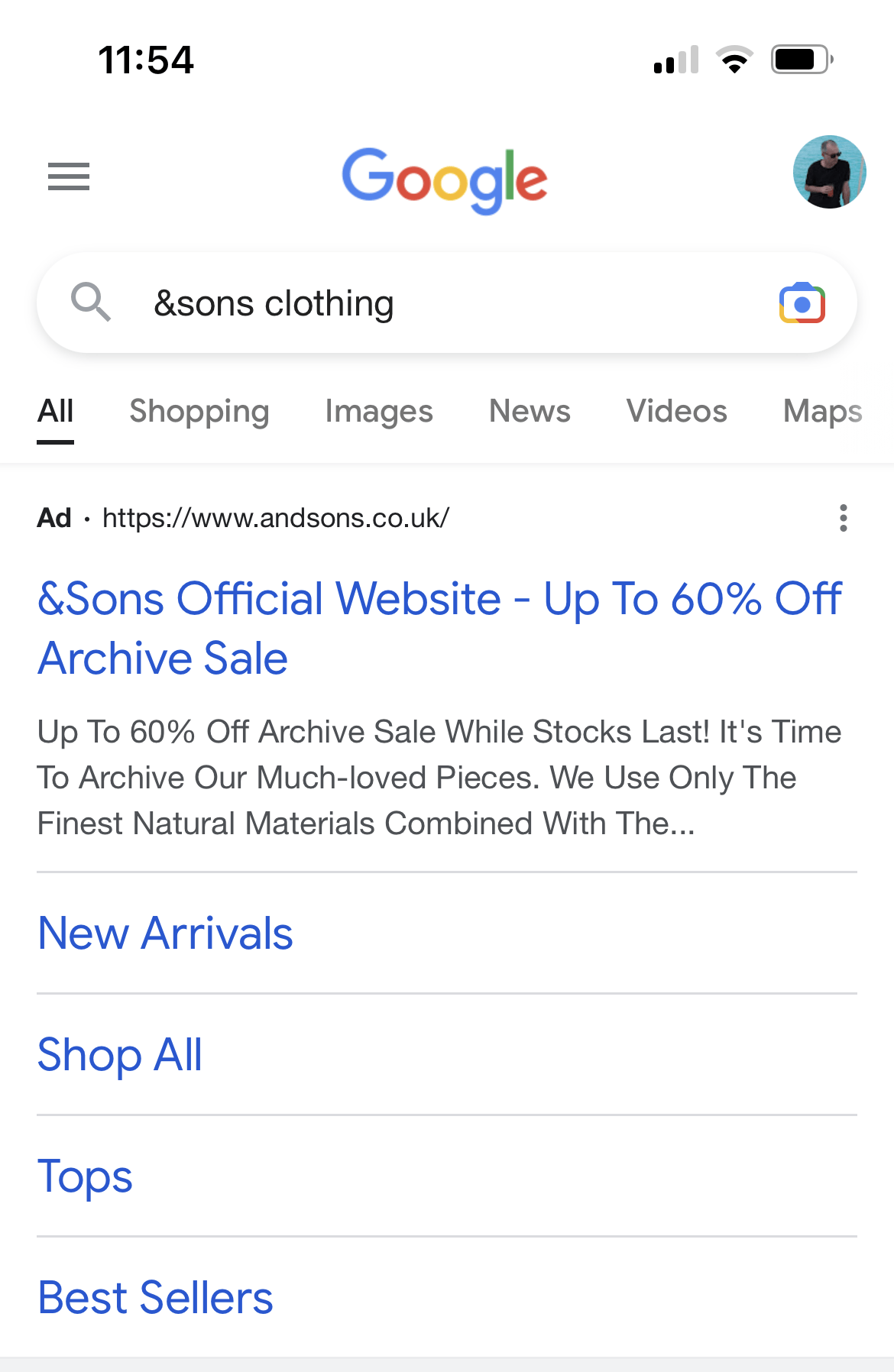 However, there are other types of advertising, including social media, print, direct mail, outdoor, and podcast advertising.
5. Partners, sponsorships, and affiliates
Many businesses use partners or affiliates to reach and promote their products and services to potential customers.
For example, you can sponsor the newsletters of people in your industry with over 10,000 email subscribers with ConvertKit's new sponsorship network. Or you can follow our guide on finding and paying influencers to endorse your products or services.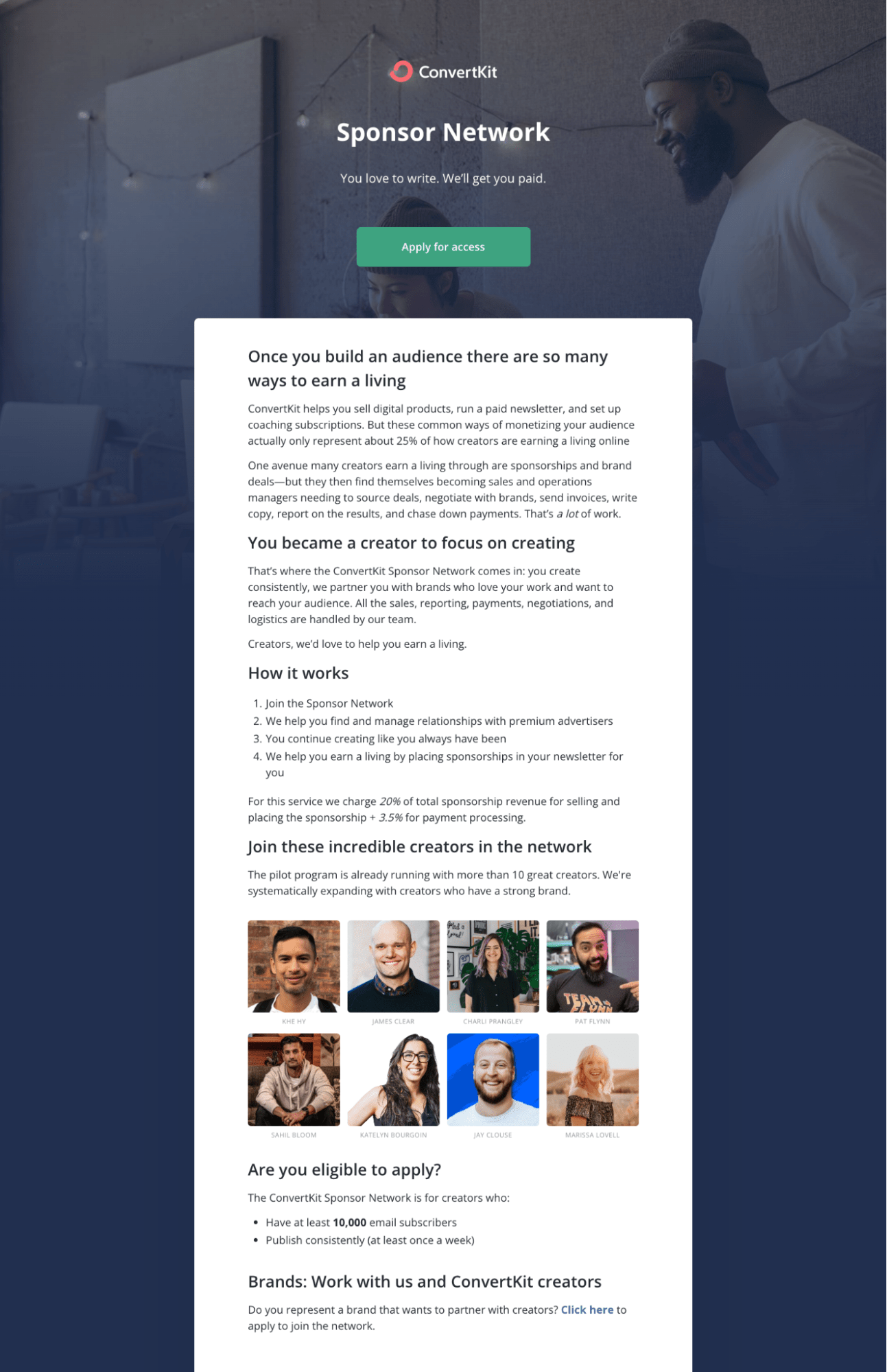 If you sell products, Shopify has introduced a program called Shopify Collabs that enables creators to partner with your company, create content about your products, and earn commissions when their audience purchases.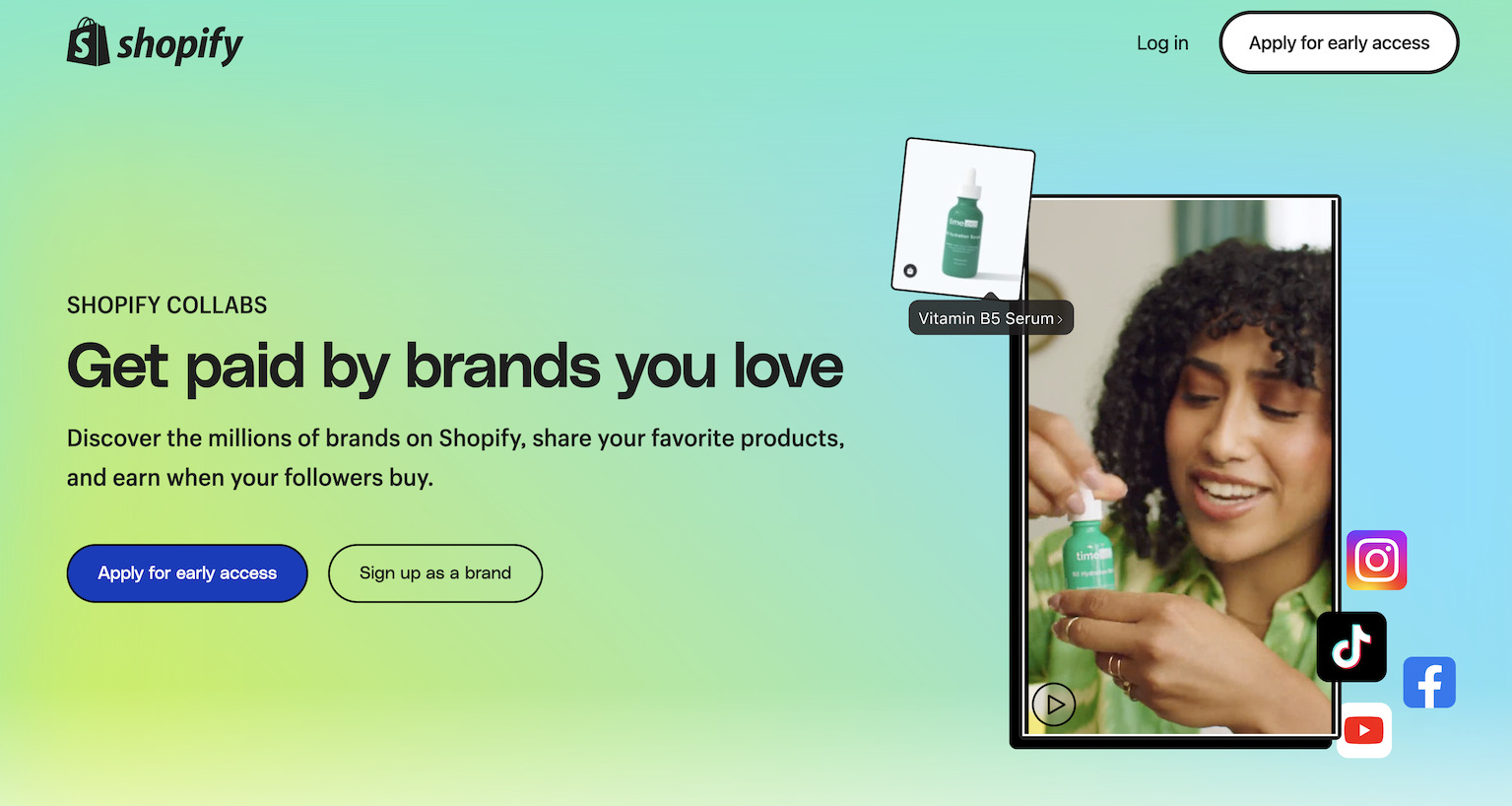 6. In-app marketing
In-app marketing is a type of marketing where adverts or messages appear within software and mobile apps.
Every time you log in to Ahrefs, we promote the latest features to existing customers.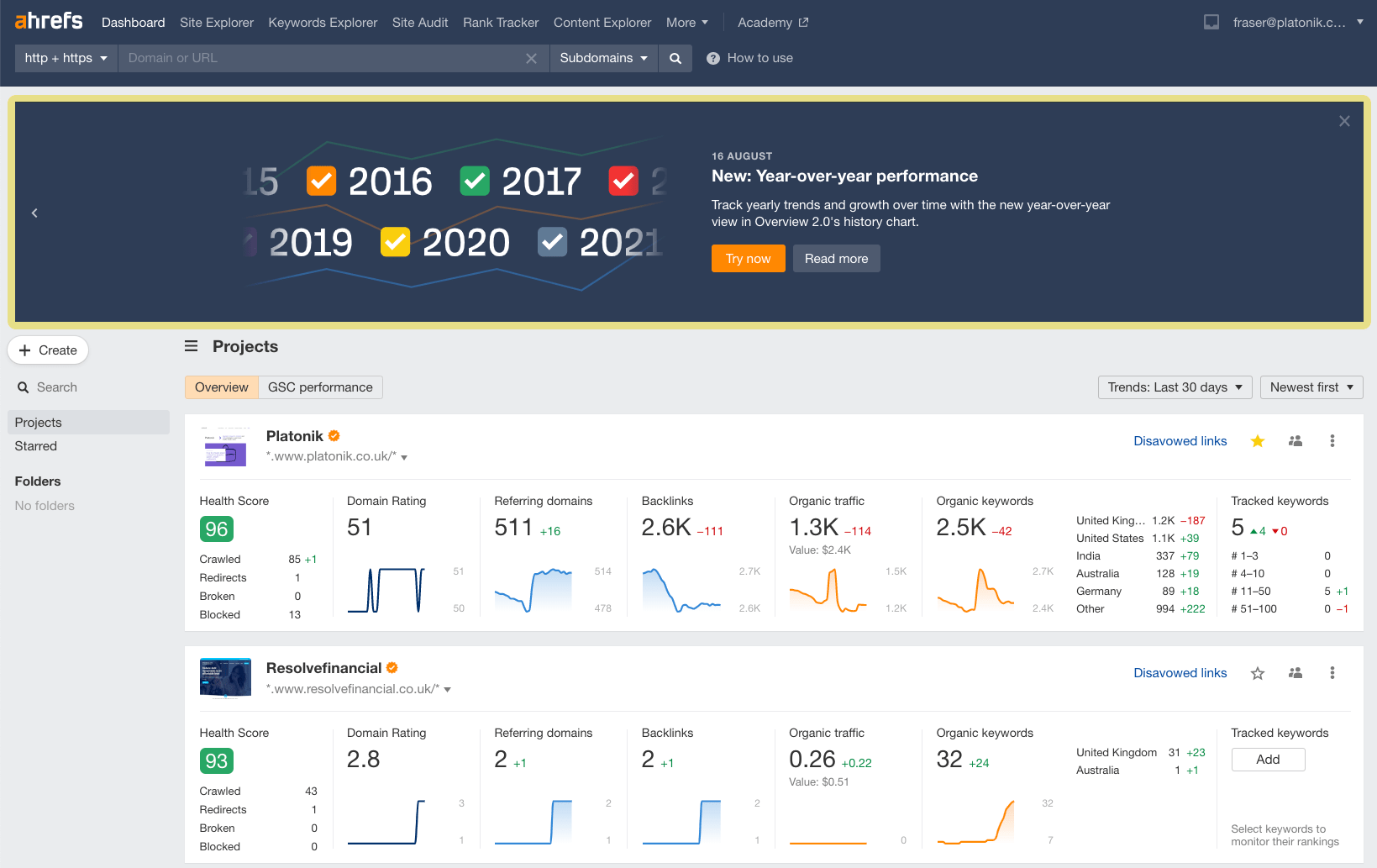 You can use a solution like Beamer to add in-app notifications to your website or application. 
7. In-store marketing
In-store marketing is the practice of promoting products and services at retail stores. This can include advertising on store shelves, signage, displays, point-of-sale materials, etc.
This skateboarding retailer uses its shop window to promote a winter sale to people walking past the shop on the high street.
Action: In our template, add how you're going to promote your products or services.
In step #3, you set some goals. Now you want to see whether your marketing activities met these objectives.
Here are a few examples of goals and how to measure them.
Goal: Sell products
If you are selling products using Shopify, you can see where your visitors came from, the products people looked at, best-selling products, average order value, and the conversion rate from the Analytics reports.
In this example, 26 sales primarily came from search and direct traffic; to grow sales, perhaps the business owners can consider PPC advertising next month.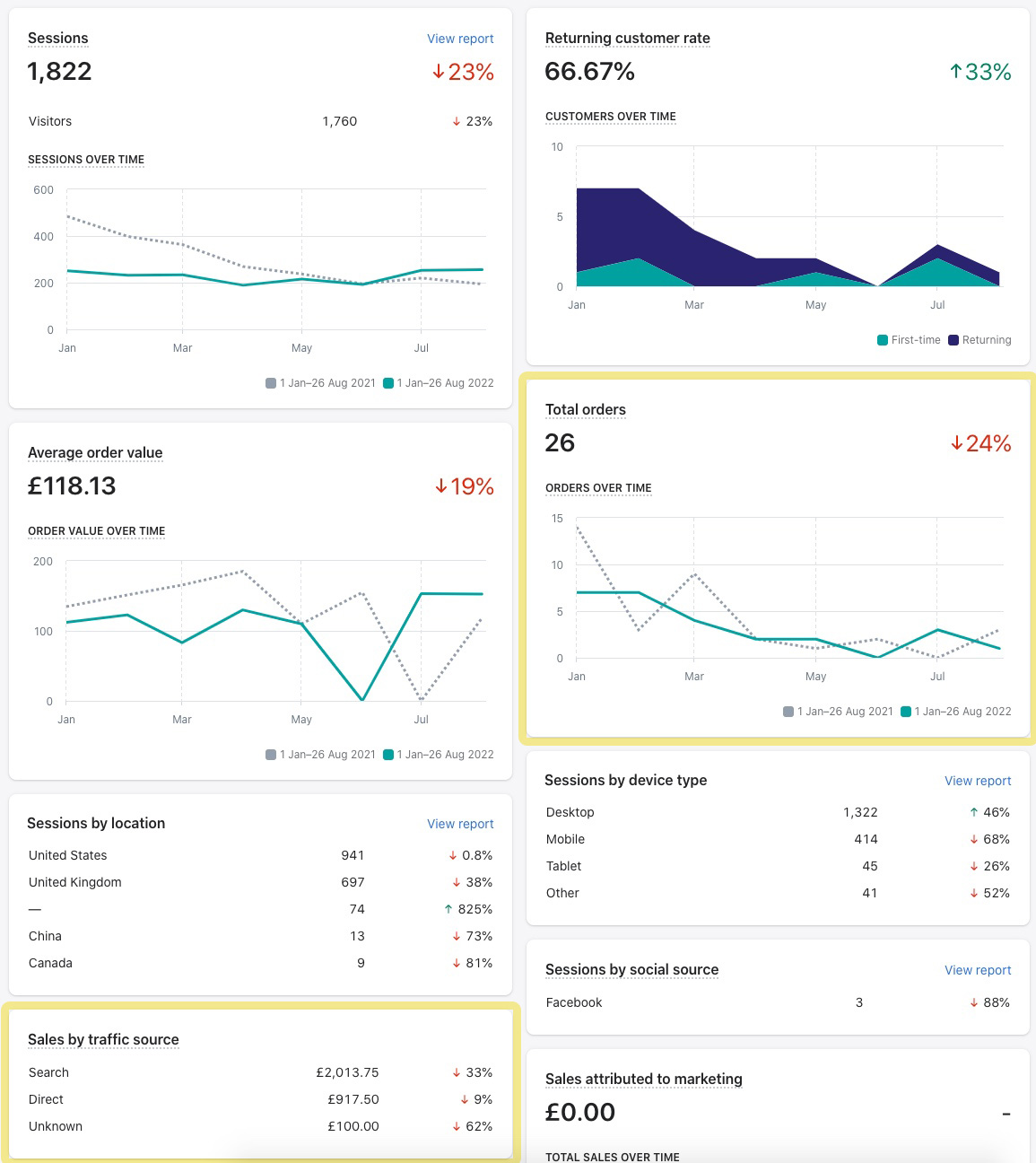 Goal: Get customers with Google Ads
If you're using Google Ads to get new customers, you should focus on your cost per conversion: the cost of someone buying your product or the cost per new inquiry.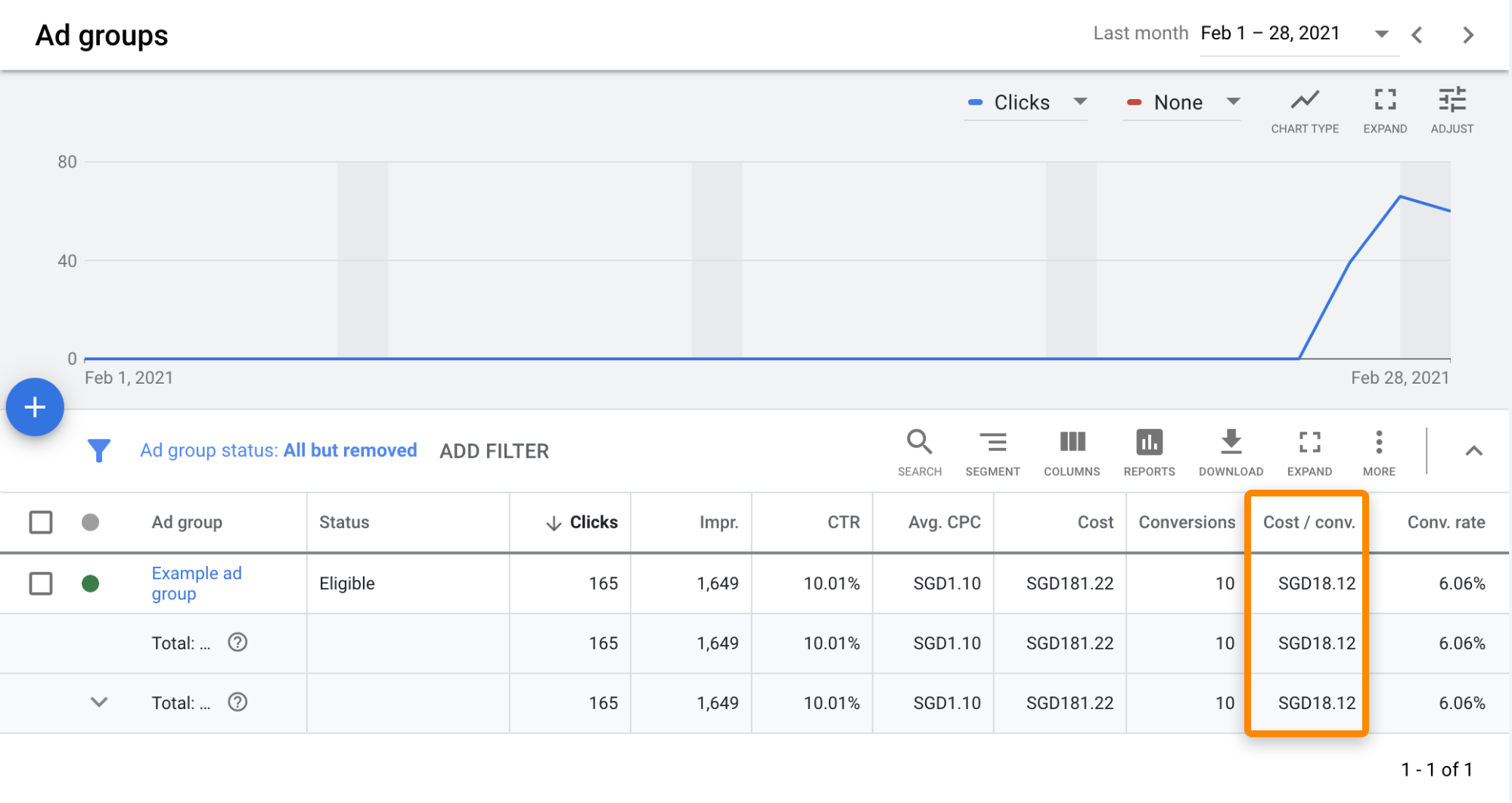 You do this by setting up conversion tracking at the start of the campaign.
Goal: Sell to existing customers with email marketing
If you use email to market to existing customers, use Google Analytics to track visitors to your site and their activities, such as purchases or leads.
Look under Acquisition > All Traffic > Channels, and you will see the number of visitors, transactions, revenue, or leads that came from email.
Ask your web developer or designer to set this tracking up for you.
At the end of each month, review your marketing results and efforts, learn from any mistakes you've made, and repeat whatever worked for you in the past.
Final thoughts
For those looking to grow their business, this marketing guide will help you get started on the right foot.
It showed you how to market your company (starting with your products), set prices, set goals, find where to target customers, and promote your products or services. There is also a template to keep you on track.
Got questions? Ping me on Twitter.