Here are some popular "types" of content marketing:
Blogs
Videos
Podcasts
Emails
Infographics
Webinars
Case studies
Presentations
eBooks
Whitepapers
Testimonials
Slide decks
Quizzes
Tools
You'll find these on pretty much any list of content marketing types that pops up on Google. But the truth is that none of these are types of content marketing. They're types of content… which isn't the same thing!
In this guide, I'll explain why this is and share some real types of content marketing that you can use.
But let's start by getting our definitions straight.
What is content marketing?
Content marketing is the process of creating and distributing content to attract and retain customers.
You can use any type of content for this. But it's not content marketing unless the content actually promotes your business and is paired with a distribution strategy. 
Types of content marketing
Let's go through a few types of content marketing to see how they work in real life.
Blogging for SEO
Blog posts are a popular content type. Many businesses publish them regularly. However, most posts don't get any traffic. Even if promoted via social media, they usually get a spike in the beginning but fade to nothing later on.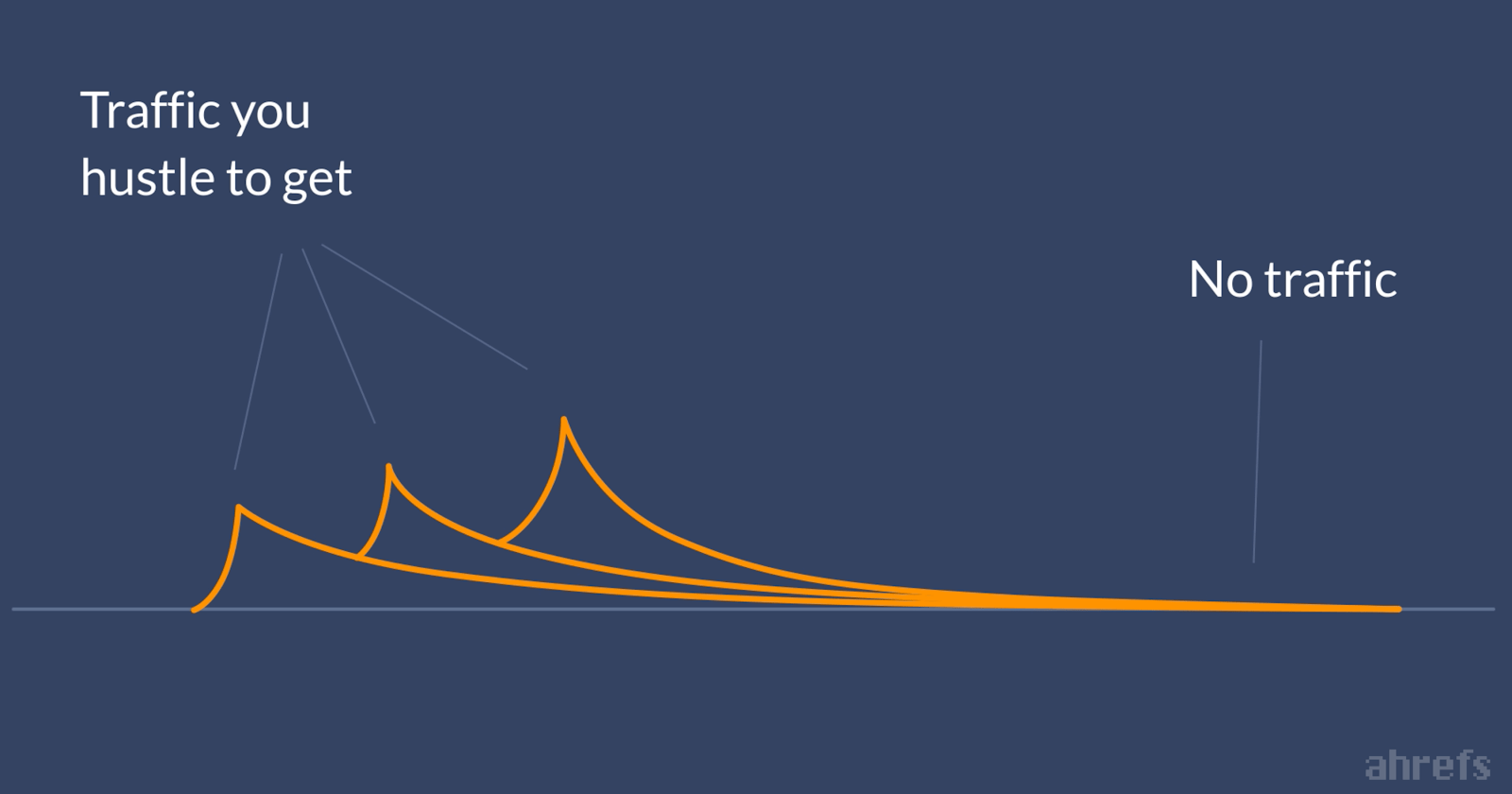 The reason for this is that most businesses lack a distribution strategy. They just publish and pray. To avoid this same mistake, you need a way to attract consistent traffic to your blog posts. And given that 57.8% of all web traffic comes from Google, we argue that there's no better way than writing for SEO.
How do you do it?
The simplest way is to look for topics people are searching for and where there are opportunities to write blog posts that promote your business. For example, if we enter a few topics related to our business into Ahrefs' Keywords Explorer and check the Matching terms report, we see thousands of keyword ideas.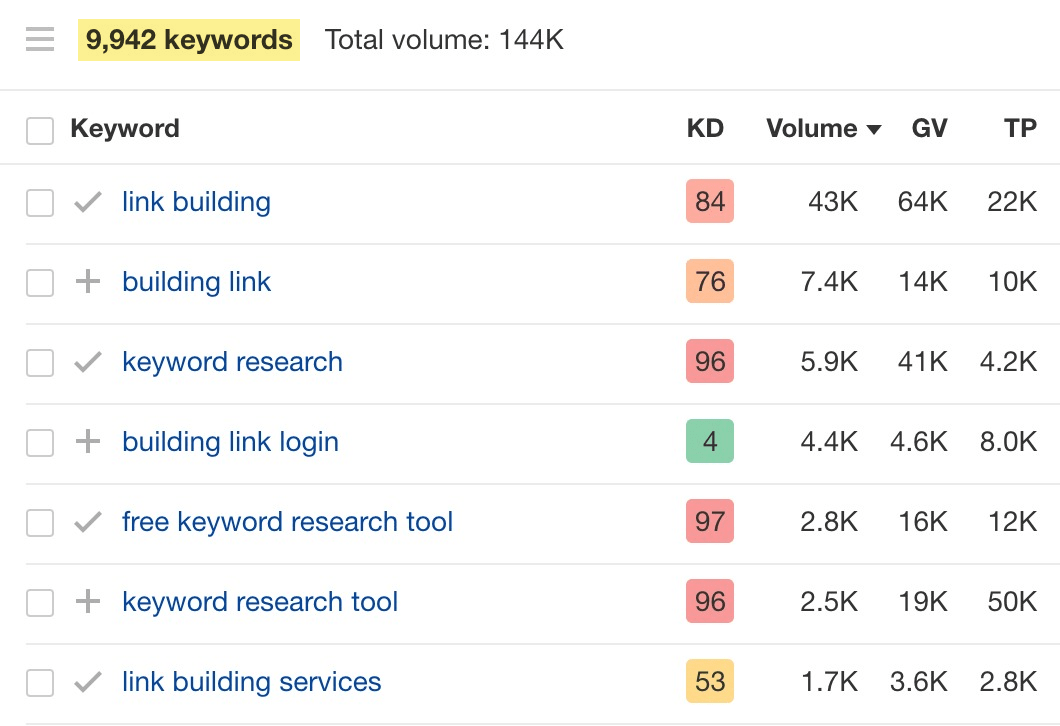 If we look at the results for one of these keywords, you'll see our list of free keyword research tools ranking in position #3. Because it ranks well for a few thousand keywords, it gets an estimated 6,700 organic visits per month.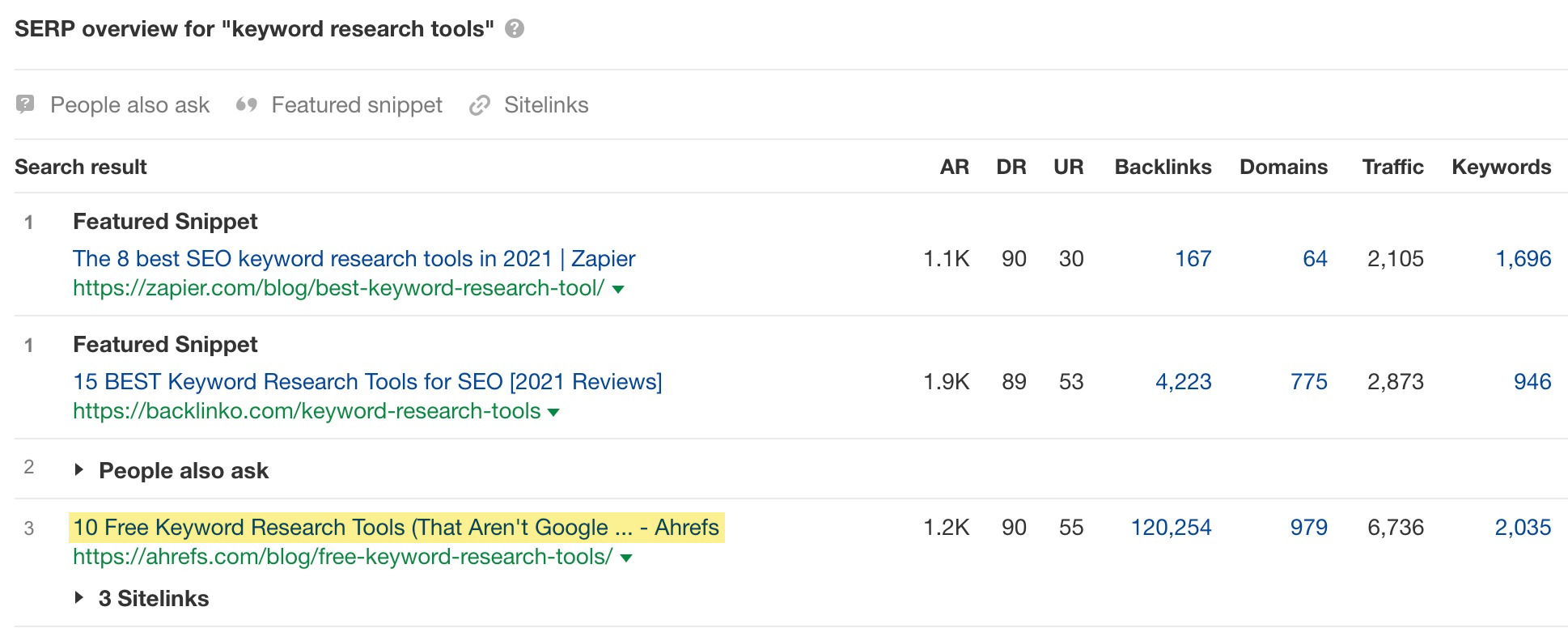 If you look at the blog post itself, you'll see one of the recommended tools is our free keyword generator. In other words, our blog post promotes our business to every single one of its thousands of monthly readers.

Video marketing for YouTube
With over 2 billion monthly logged-in users, YouTube has an existing audience you can tap into when you create videos. However, there is a lot of competition, and your videos still have to be promoted and discovered.
How do you do this?
Like blogging for SEO, the simplest way is to find topics people are searching for on YouTube that also allow you to promote your product naturally. To find these topics, enter a few keywords relevant to your niche into Ahrefs' Keywords Explorer, set it to "YouTube," and check the Matching terms report.
You'll see hundreds of potential keyword ideas.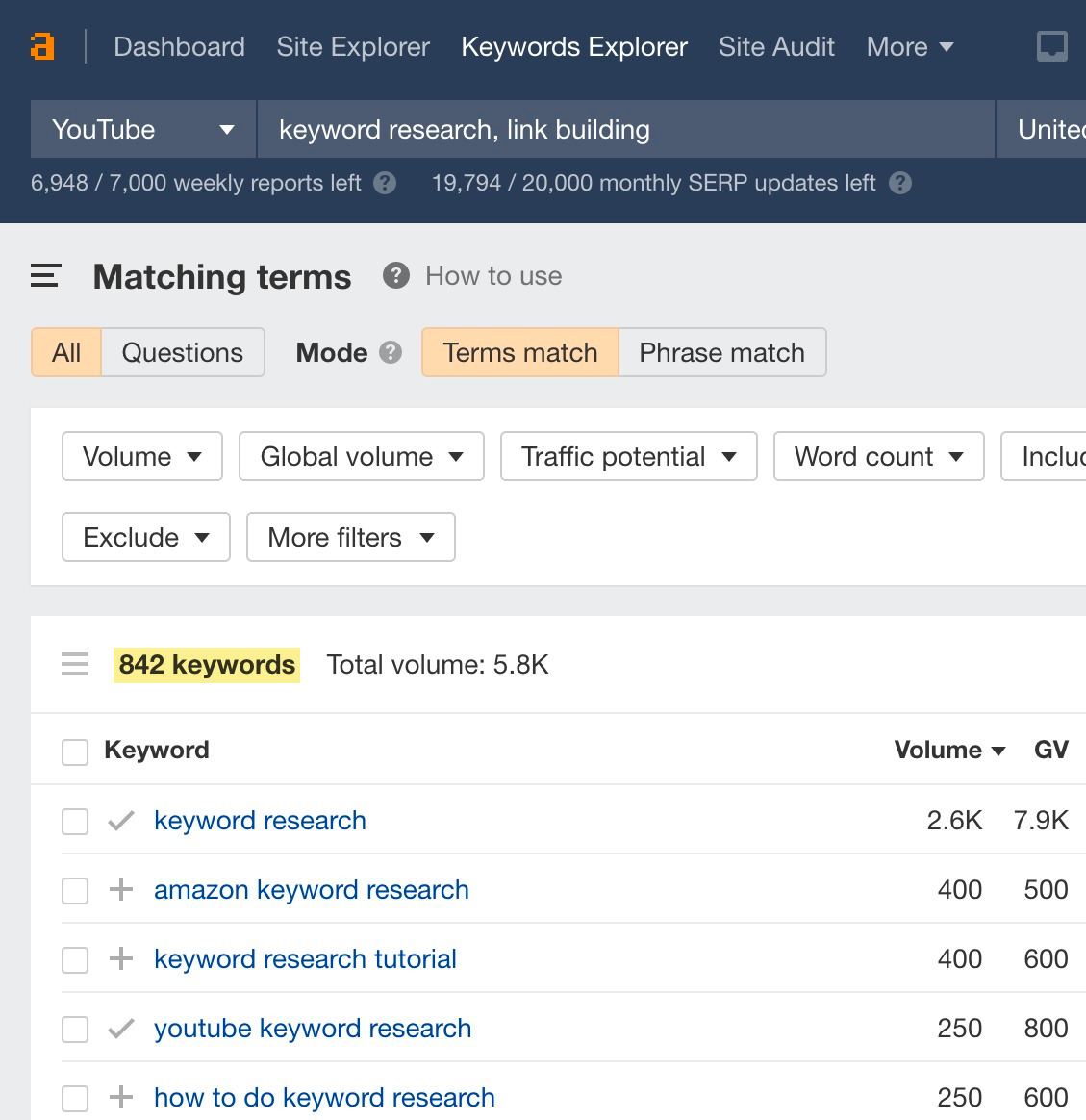 That's how we built up our YouTube channel. Our main focus initially was to rank well for keywords relevant to our business. For example, if we look at the topic "keyword research," you can see that we're ranking #1 for it, which drives thousands of views per month.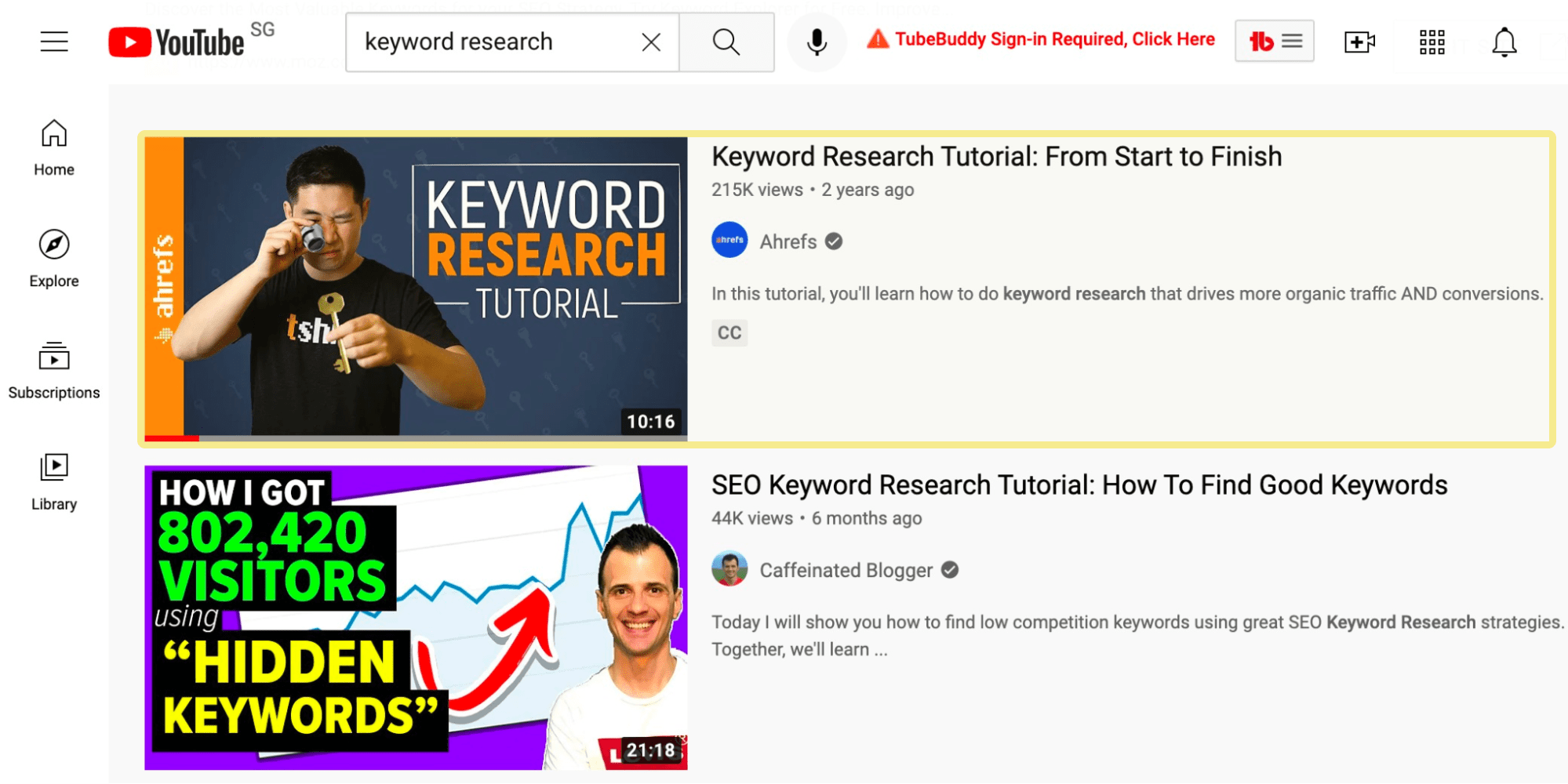 Our video also plugs Keywords Explorer as the tool of choice for doing keyword research, promoting our business to thousands of YouTube viewers each month.
Podcasting for brand awareness
Like blogging, podcasting is a great content type to build up an audience and promote your brand. But most podcasts also don't get traction and end up getting abandoned a few months later.
And unlike YouTube, the current podcast discovery landscape isn't ideal and can make building momentum difficult.
But there is an alternative route, which is one we did ourselves: appear on podcasts as a guest. It makes things simple. You don't have to sink resources into creating one that may not work out, and you can also tap into an existing audience.
With over 2 million podcasts today, there are plenty of opportunities for you to get interviewed.
But how do you find these opportunities?
An easy way is to simply Google for the top podcasts in your niche.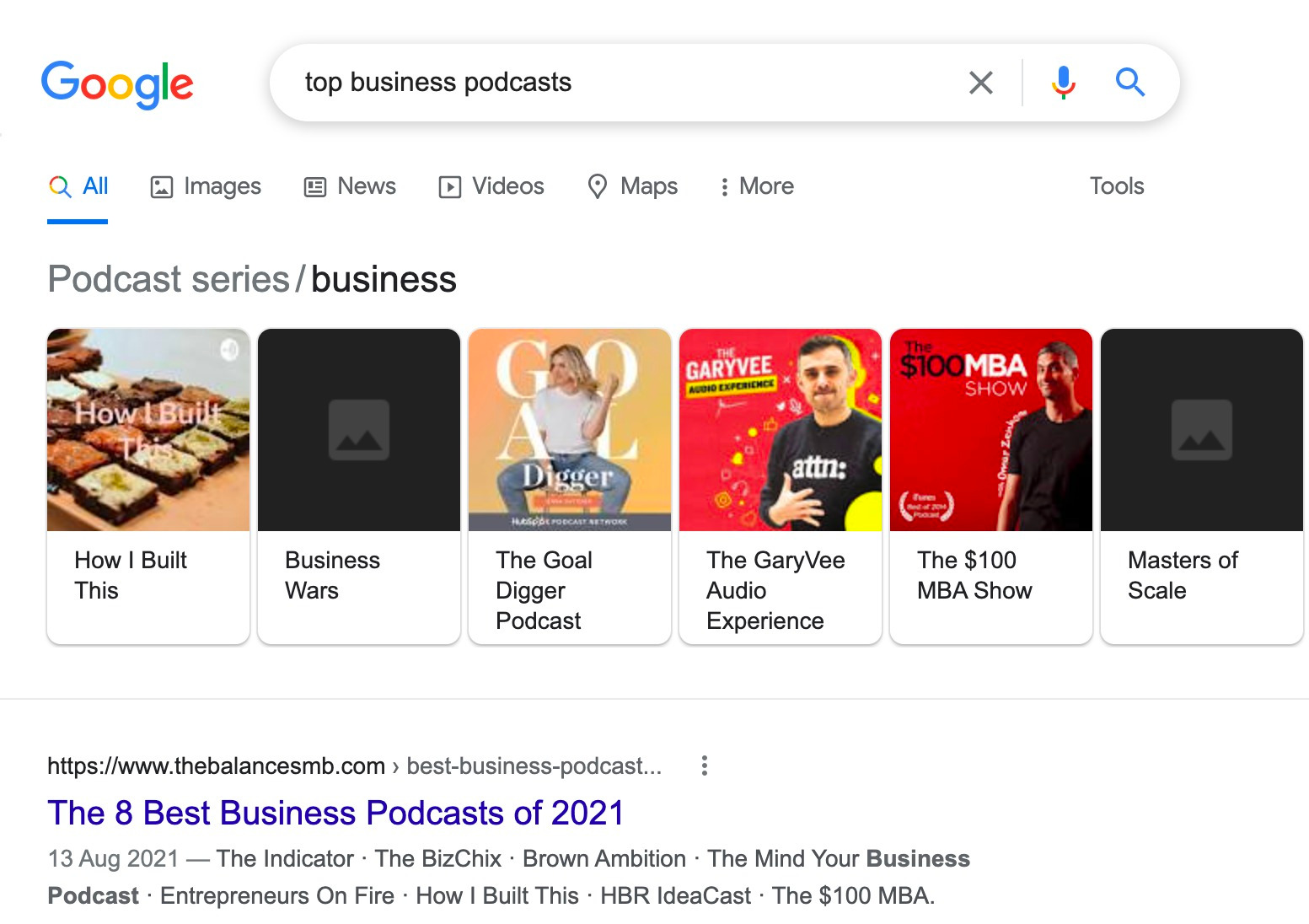 However, most of them will be popular and difficult for you to get on. A better way is to identify someone of similar caliber in your industry who's been a guest on multiple podcasts. For example, Laura Roeder, the founder of MeetEdgar, is someone in our industry who has appeared on many podcasts.
To discover the podcasts she's been on, let's paste her site into Ahrefs' Site Explorer, go to the Backlinks report, set the search dropdown to "Referring page title," and search for her name. Now, the links in the "Referring page" column are pretty much all podcasts.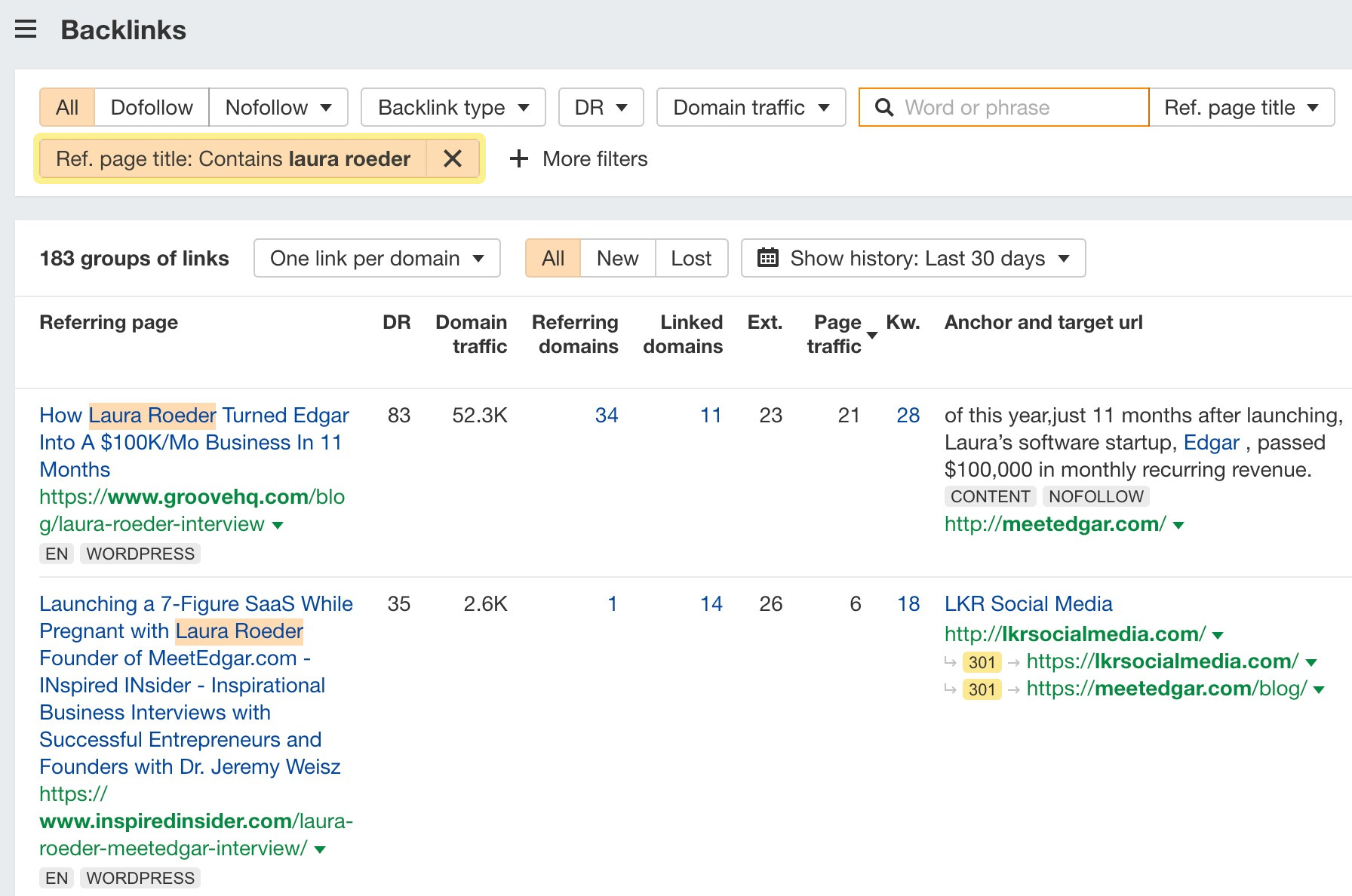 Once you've identified the podcasts you want to be on, pitch yourself as a guest.
Email marketing to nurture leads
Brian Dean gets over 500,000 monthly organic visits:

This audience is exposed to his blog, where he actively captures contact information: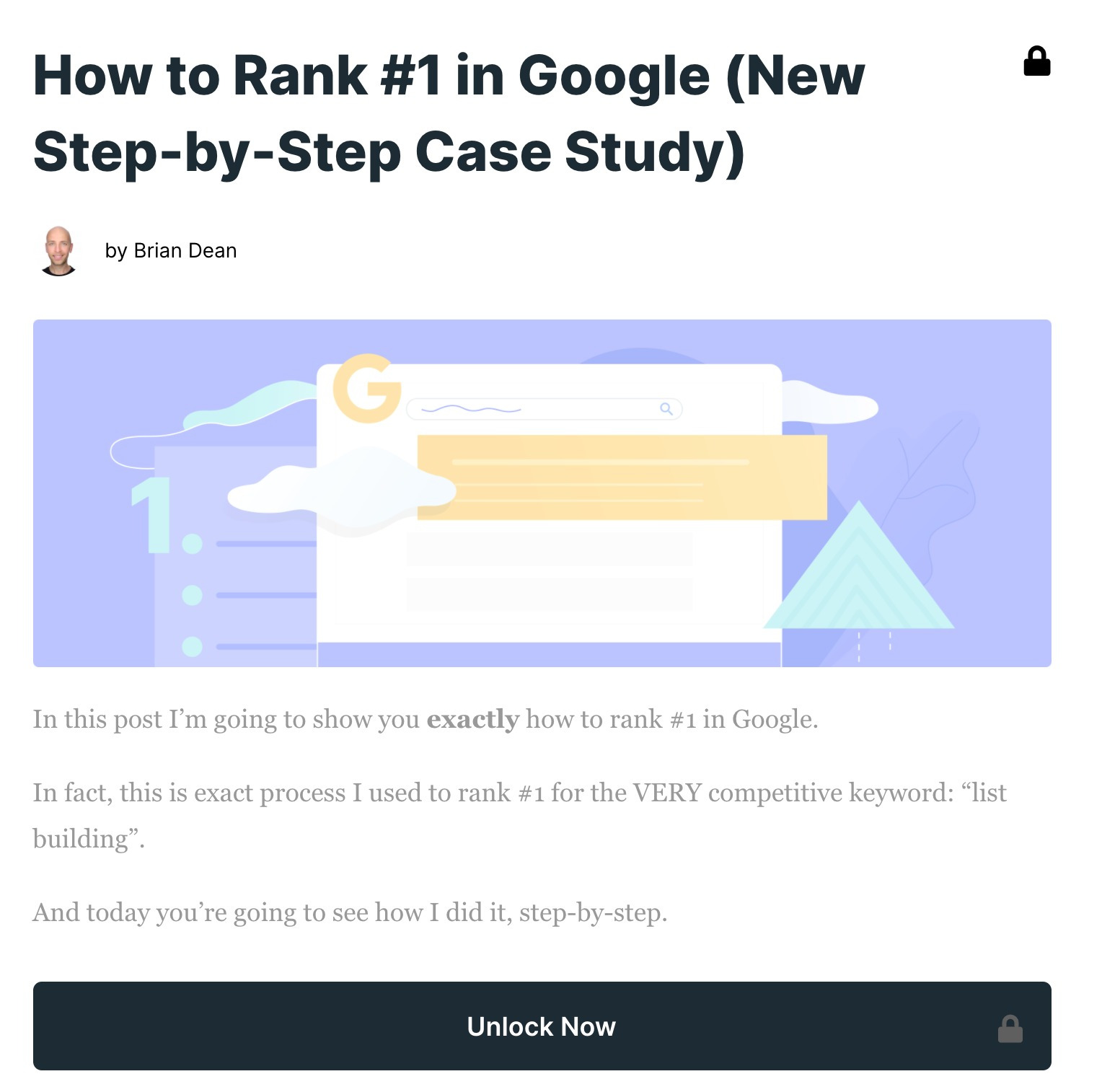 Then, whenever Brian publishes a new post, he promotes it to his list: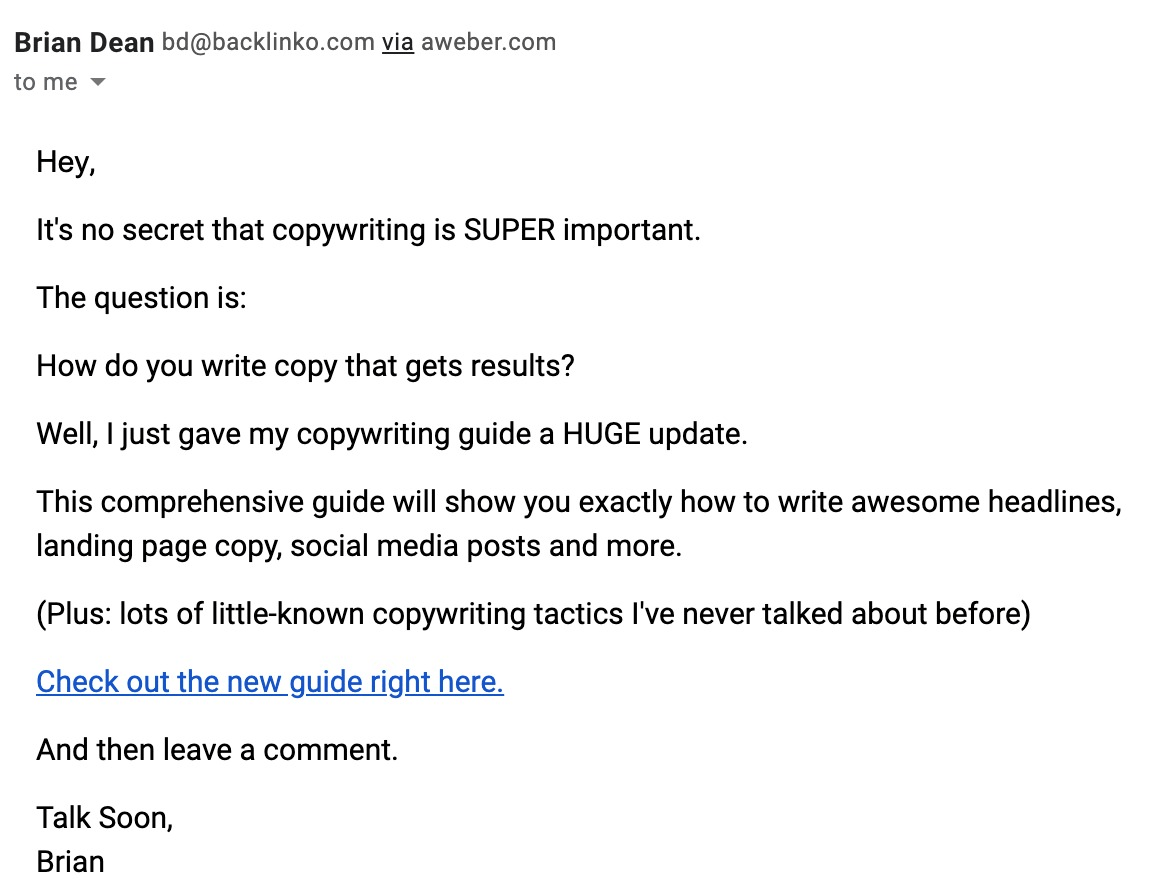 This works like a flywheel: email distributes blog content to an existing email list, while blogging builds up the list through exposure to new visitors and capturing their contact information.
This tiki-taka between email and blogging also helps nurture his audience. It helps inch his audience in the initial stages of the buyer's journey closer to the "purchase" stage, and his brand is always top of mind too.
Once in a while, when Brian launches his online courses, purchasing becomes a no-brainer because his audience is already familiar with his work and name:
Social media marketing for brand building
Don't expect to succeed on social media with just any content. To effectively promote your brand on social media, you have to understand what works on a particular platform and publish content natively.
Brands like Innocent and Wendy's do well on Twitter because they understand social media's affinity for playful banter, strong opinions, and satire.
GoPro knows that Instagram is all about beautiful pictures and influencer marketing. It successfully combines the two (and subtly promotes itself) by curating gorgeous pictures and videos taken by customers who used GoPro products.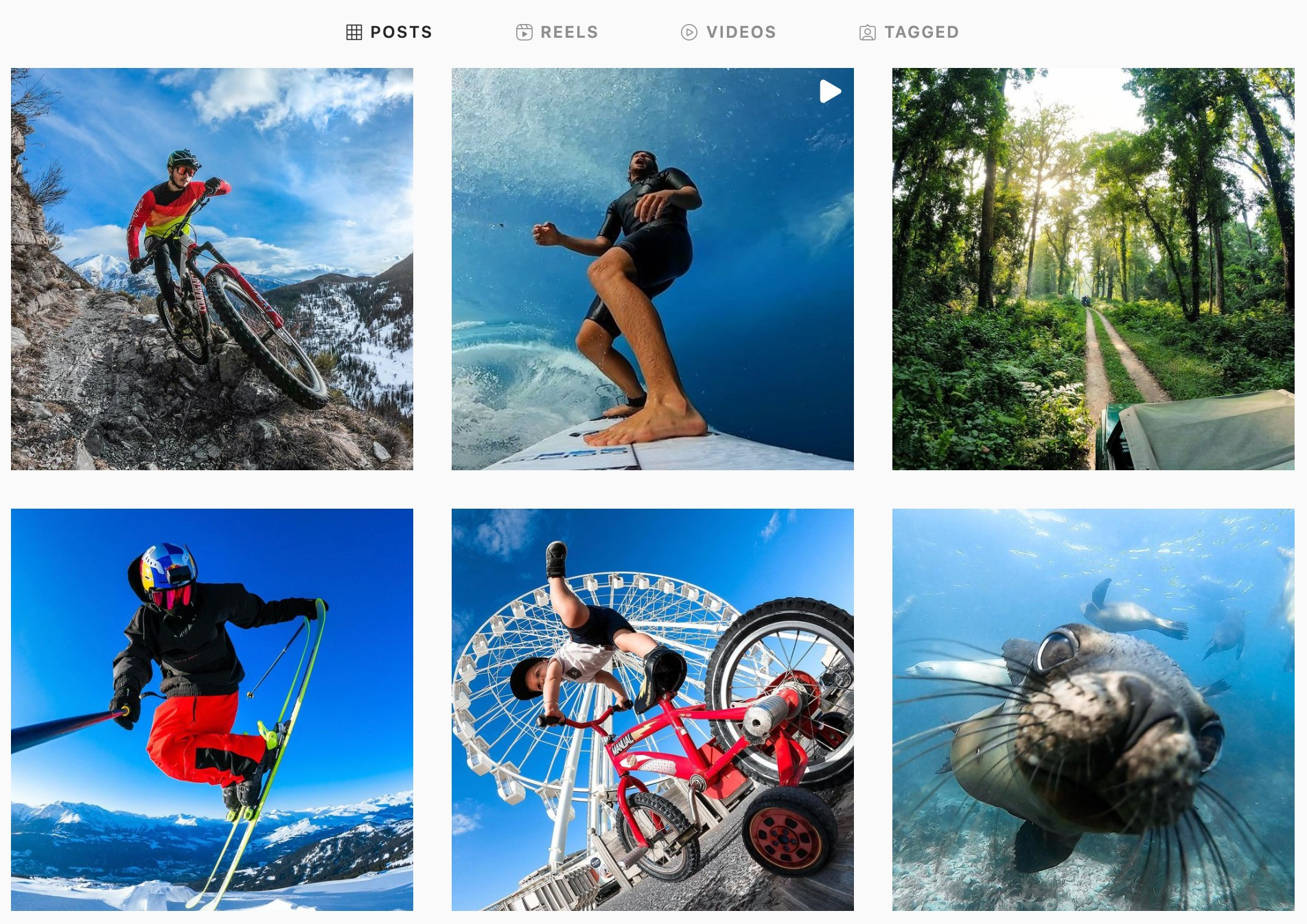 It's not about spamming your feed with links to your own products. Rather, it's about actively engaging with people on social media.
How to choose the right type of content marketing for you
You've seen how the different types of content marketing actually work. But which ones should you choose? Which ones will work for you?
Your choices will depend on your answers to these four questions.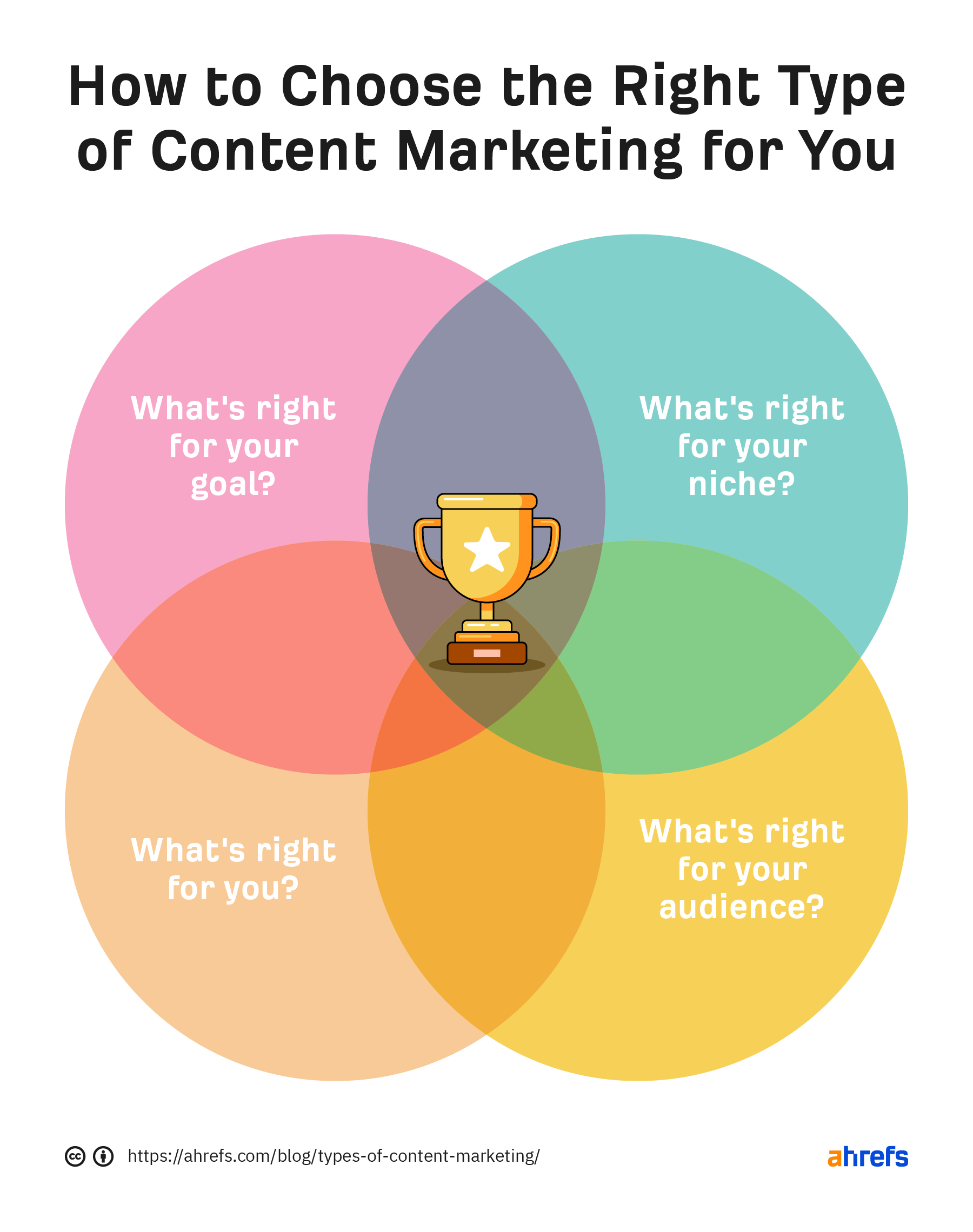 What's right for your goal?
Content marketing is ultimately just a tool you use to reach your goals. So the type of content marketing you choose in the end should align with what you want to achieve.
For example, if your goal is to get more traffic to your website, then perhaps email marketing is not the right type of content for that goal. You may want to consider blogging so you can rank high on Google and get passive traffic over time.
What's right for your niche?
Certain types of content make more sense for certain niches.
For example, if you're teaching breakdancing, then a podcast doesn't make sense. No one's going to sit down and figure out how to bust moves from audio. But videos are perfect because your audience can watch and learn how to execute those moves.
What's right for your audience?
How does your audience like to consume content? Are they predominantly reading, or are they watching videos on YouTube? Which platforms are they spending most of their time on? Is it YouTube, TikTok, Instagram, Twitter, or something else?
If you're unsure, find out by looking at what your audience is sharing on social media or communities like Reddit. For example, there are hardly any b‑boys or b‑girls on Twitter. But they're all over Instagram.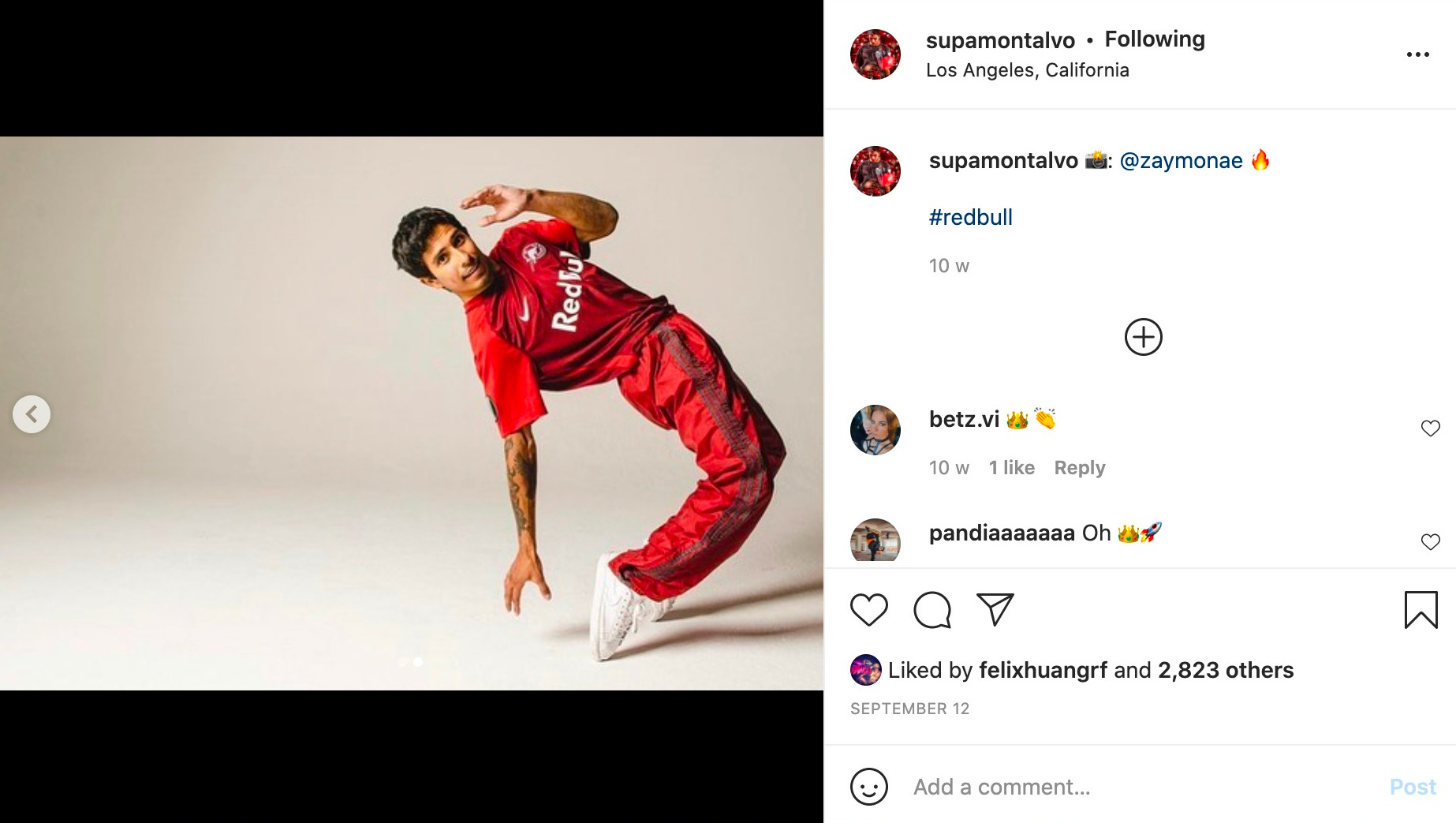 What's right for you?
Content marketing can be resource-intensive. It makes a lot of sense to work on something that you enjoy and something that is your strength.
If you are an excellent writer but aren't very confident on camera, then perhaps it may not be a good idea to produce videos. Blogging may be a better choice.
Final thoughts
Don't be mistaken. Creating content by itself won't work. There are plenty of stories of abandoned blogs, YouTube channels, podcasts, and social media accounts.
For your chosen type of content marketing to work, you need to get more reach for your content and make sure the content helps your business to grow.
Any questions or comments? Let me know on Twitter.