Niche sites have significant earning potential. So much so that they can eventually replace your regular "9 to 5." But to reach that point, you need to know how to successfully get one off the ground.
I've been an SEO consultant for the past four years and have worked specifically with niche site owners. They include people just starting out.
I've worked with clients to build sites from scratch. They went on to start earning their first commissions within 60 days and four-figure monthly sums within 12 months.
In this guide, I'm going to share my step-by-step process for successfully building a niche site that earns over $1,000 a month within the first 12 months.
But first, let's get some of the basics down:
A niche site is any website that caters to a specific audience or topic. It can be about anything: health, business, relationships, travel, food, fashion, animals, or the more obscure.
There are all kinds of niche sites, and covering them all in this guide will probably turn it into an SEO version of "War and Peace." So for today, we are only going to focus on niche affiliate websites.
Niche affiliate websites work by promoting someone else's product through content. A commission is earned from every sale the company makes. This is the basic concept behind affiliate marketing.
To do this, site owners produce articles, often reviews, covering topics like "The best five backpacks for hiking." In such content, they detail the following:
What the product is
Who needs the product and why
Reviews of the top few choices
Advice for the reader on the pros and cons of each option
Each of these reviews contains affiliate links that send the reader directly to the product on the partner's website. If someone makes a purchase then, boom, an affiliate commission is earned.
Like the majority of SEO, it depends—in this case, on specific things:
Whether you choose the right niche
Building the site right from the beginning
How much time and effort you put into the site to get it off the ground
The simple fact is choosing a niche with high-ticket items, laying the right foundations, and putting more effort into the amount of content you produce and links you build will have your site earning more at a quicker pace.
Generally speaking, the sites I have built over the years have seen their first commissions within six weeks and hit the $1,000/month mark within 12 months.
In fact, here is a site I built around eight weeks ago that's already earning (a minimal amount, of course) its first commissions on Amazon: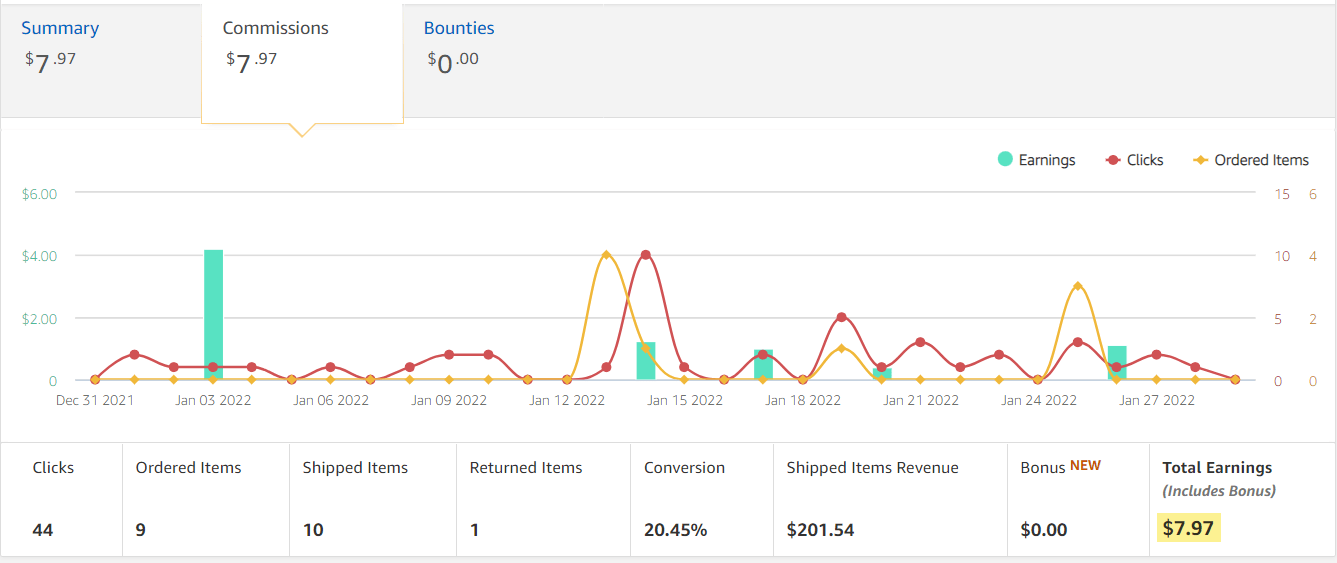 This site has little traffic. However, it won't take long to scale up if it consistently produces content and builds links.
Here is January's traffic of a site I built 12 months ago: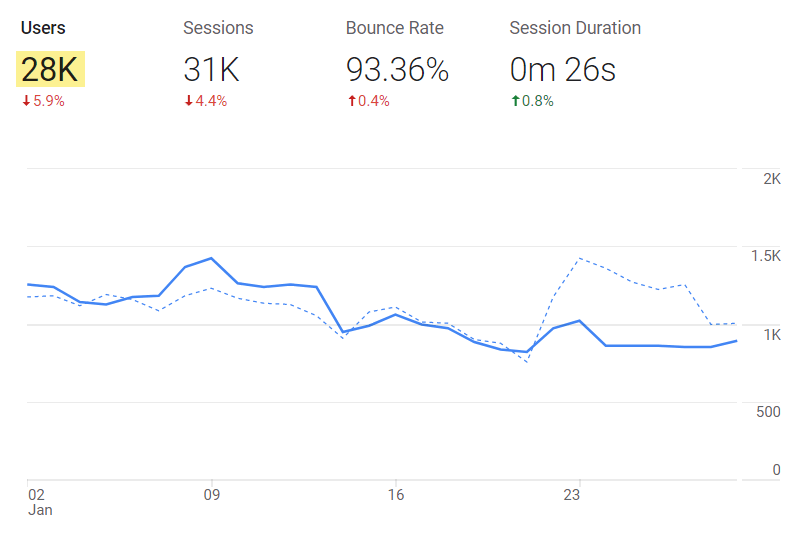 Here is January's traffic of a site I built almost three years ago: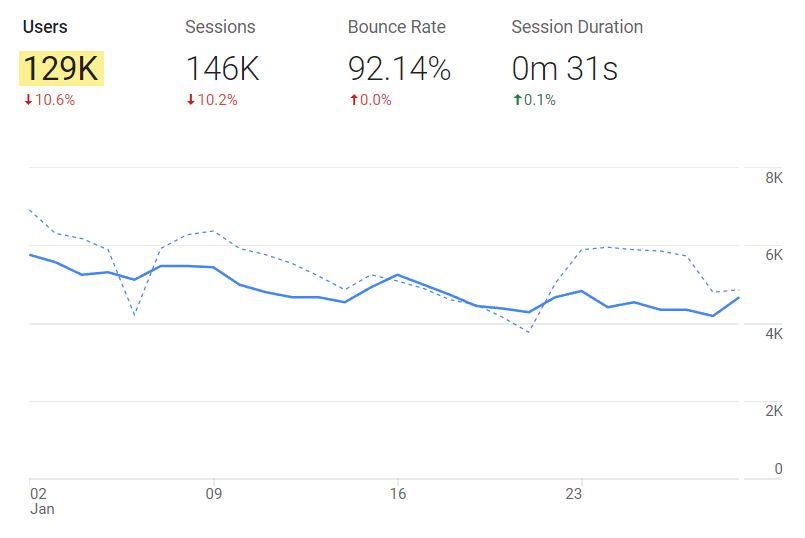 Both of the above sites are seasonal (hence the downturn in traffic for January). They currently see a solid ongoing monthly income and can be flipped in the future to make a profit.
Niche sites currently flip for around a 32X multiplier based on one month's income. That means if you build a niche site that earns $1,000 a month within 12 months, you can potentially flip that site for $32,000.
But how do we do that exactly?
Earning an extra $1,000 a month from a niche site is a side hustle that may just be what you need. Or maybe being able to give up your day job and earn $10,000 a month from your site is the pinnacle of success.
Either way, we are going to look at the six steps you need to follow so that your site gets off on the right foot. These are:
Choose the right niche
Find the right keywords
Build your site
Write content
Build links
Rinse and repeat
Step 1. Choose the right niche
Choosing the right niche is absolutely crucial to starting a profitable niche website. It lays the foundation for everything else going forward, e.g., degree of difficulty to rank your site, amount of money you can earn, etc.
With that said, there are a few things you need to consider when coming up with profitable niche ideas:
Personal experience/interests
Choosing the right affiliate program(s)
Viability in the long term
The niche selection process will look something like this, and we will discuss that more in a bit: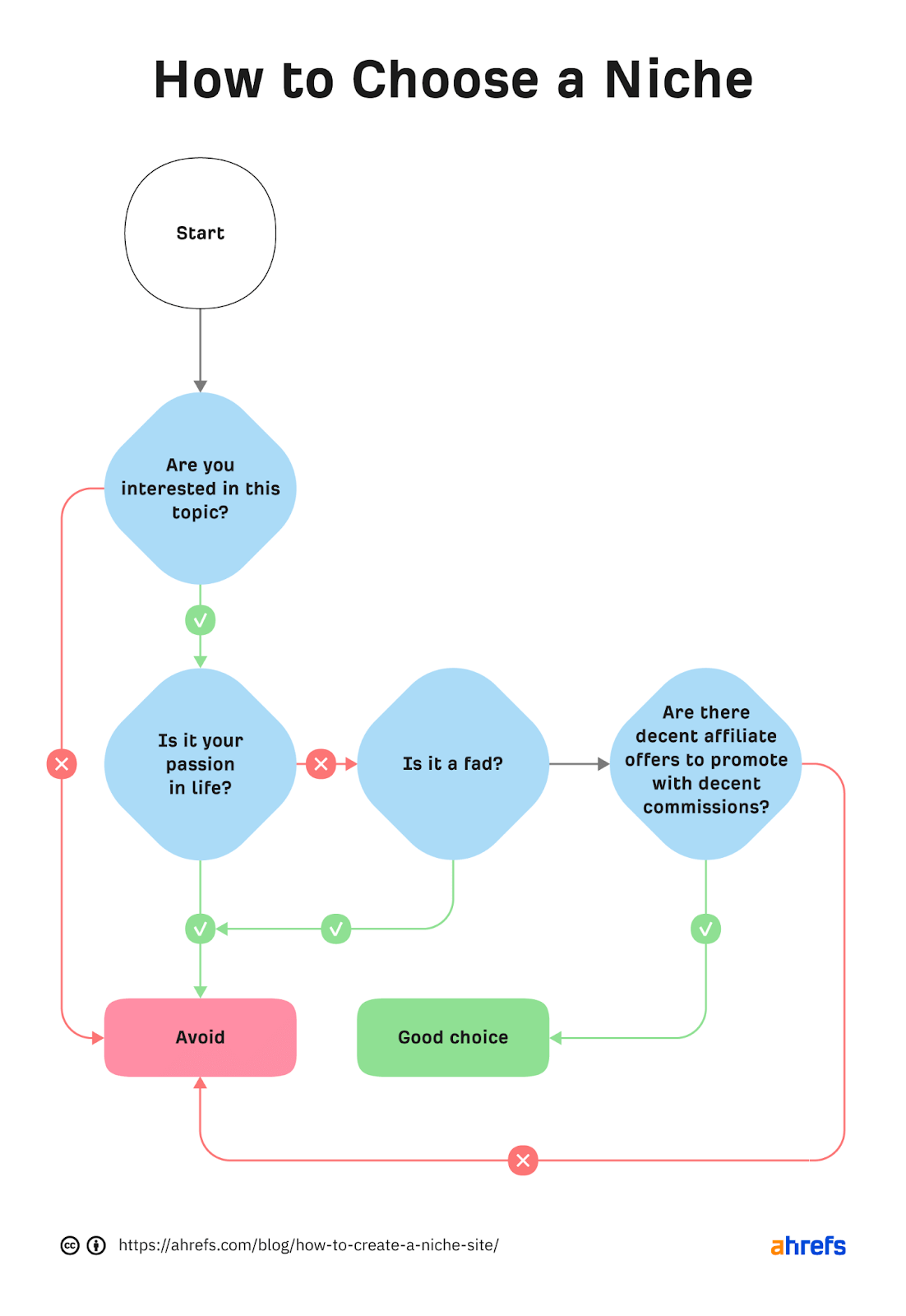 Are you interested in the niche?
From what I've observed, having too much experience in a niche can hinder the success of your site. Site owners tend to be too personally invested.
Every piece of content has to be vetted with a fine-tooth comb or written by the site owner themself. Of course, there is nothing wrong with taking pride in your work, but this is incredibly hard to scale.
For that reason, I recommend choosing a niche that you find interesting but not too interesting. You should have enough interest to produce some of the content in the beginning to keep costs down, but not enough that you want to write every single word in the long term.
Choosing the right affiliate program
Ensuring there are viable affiliate programs in your niche is a key part of niche selection. After all, you can't make money as an affiliate without something to promote.
The ideal scenario is to find a product that has affiliate commissions of over 10% or high one-time payout offers. These can include a set fee for each referral you direct to a partner's site.
The issue for newbies is that most private affiliate programs and even affiliate networks want proof the products will be successfully promoted. Only then will the programs and networks allow these newbies to become affiliates.
The only program that pretty much anyone can join at any stage is Amazon Associates.
Amazon affiliate commissions have been slashed in recent years and are, in some cases, significantly lower than other private affiliates' (as low as 1% for some product categories).
But for a total noob, they make a great springboard to more advanced, private programs.
What I mean by this is that showing evidence of consistent earnings from Amazon can help you get a foot in the door to work with a desired private affiliate partner.
But regardless of the affiliate program, it is important to choose a niche that has high-ticket items.
It costs exactly the same to produce content regardless of whether the products you are promoting have an average cost of $350 or $3.50. High-ticket items will allow you to reach your goals faster, even with an affiliate program with lower commissions.
Therefore, finding a niche that has high-ticket items, a decent Amazon commission, as well as private affiliate options with commissions of 10% or above is the safest route for a total beginner.
Recommended reading: How to Build a Successful Amazon Affiliate Site (Step by Step)
Will the site work in the long term?
There is a temptation to jump quickly onto anything that is the new, hot thing. But is it going to last forever?
Choosing a niche for your site that happens to be hot right now is probably not going to give you enough scope in terms of keywords to scale your site.
Also, remember that focusing on seasonal niches, such as golf or tennis, means your site will likely earn more at certain times of the year and possibly nothing at other times.
That doesn't mean you should avoid seasonal niches altogether. In fact, if you already have seasonal employment, e.g., you work as a ski instructor, a seasonal site you can focus on during quieter months of the year could be perfect.
But if you are looking to build an affiliate site to act as your main source of income in the future, you have to factor into your business plan that earnings throughout the year from a seasonal niche may not be consistent.
Step 2. Find the right keywords
Keyword research is the process of finding what your ideal audience is searching for in Google. It's important because there's no point ranking for things that nobody's searching for, as you won't get any traffic (and, therefore, no affiliate commissions).
When doing keyword research for niche affiliate sites, you're mostly looking for three main types of keywords:
General comparisons – Best wifi router, best protein powder
Branded comparisons – MacBook Air vs. MacBook Pro
Product reviews – MacBook Pro review
These are all keyword types that people regularly search for where you can plug products to earn affiliate commissions.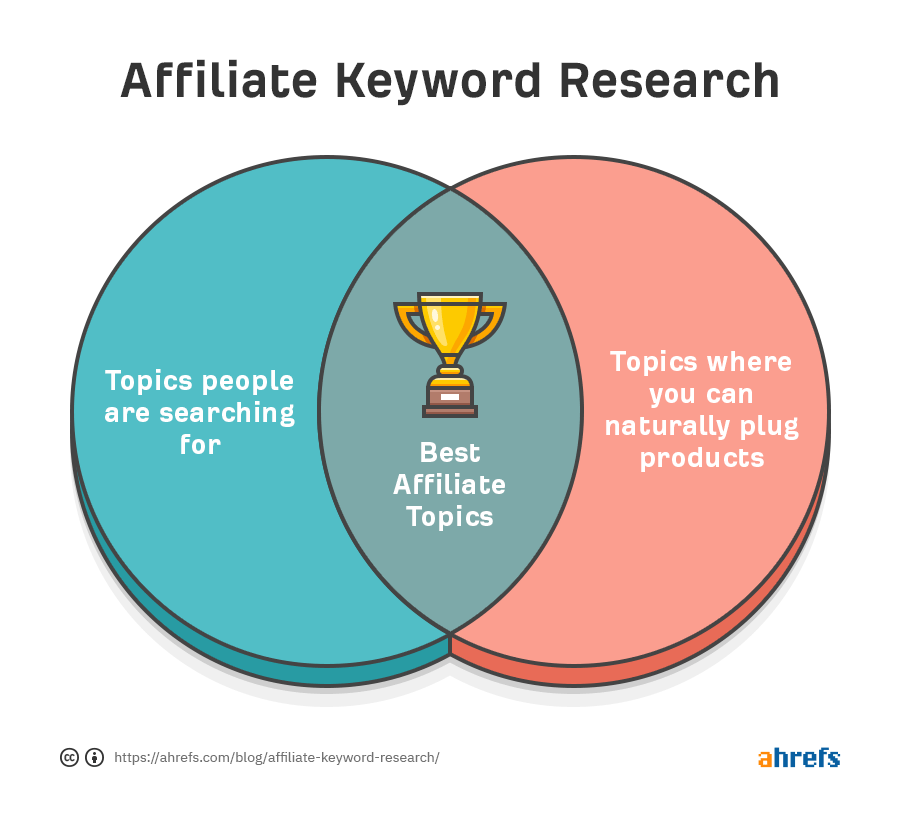 Here's how you can find them:
Go to Ahrefs' Keywords Explorer
Enter broad topics or brands related to your niche
Go to the Matching terms report
Filter for keywords containing a relevant modifier
For example, if we are starting a site in the coffee niche and want to find general comparison keywords, we may enter "coffee" and "espresso" as our seed keywords. Then add "best" to the "Include" filter to find keywords containing that modifier: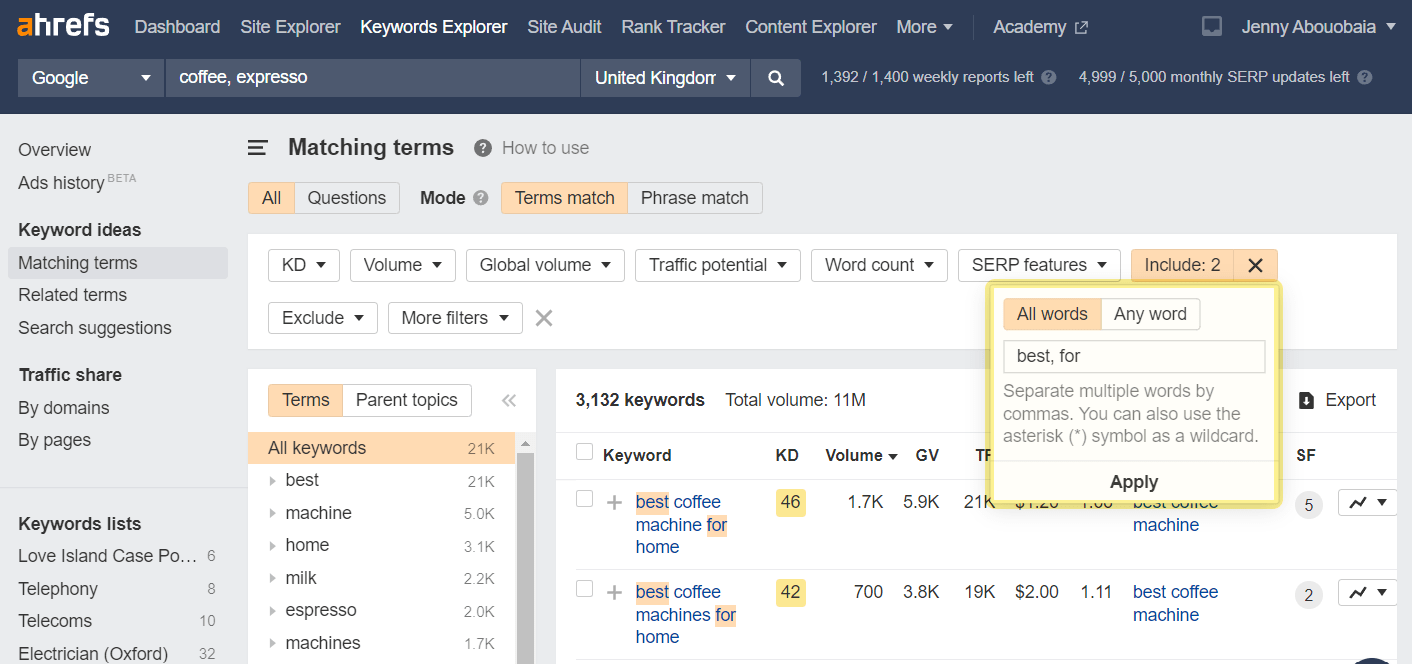 If we want to find branded comparison or product review keywords, we can enter known brands like "hario" or "nespresso" and use either "vs" or "reviews" in the "Include" filter: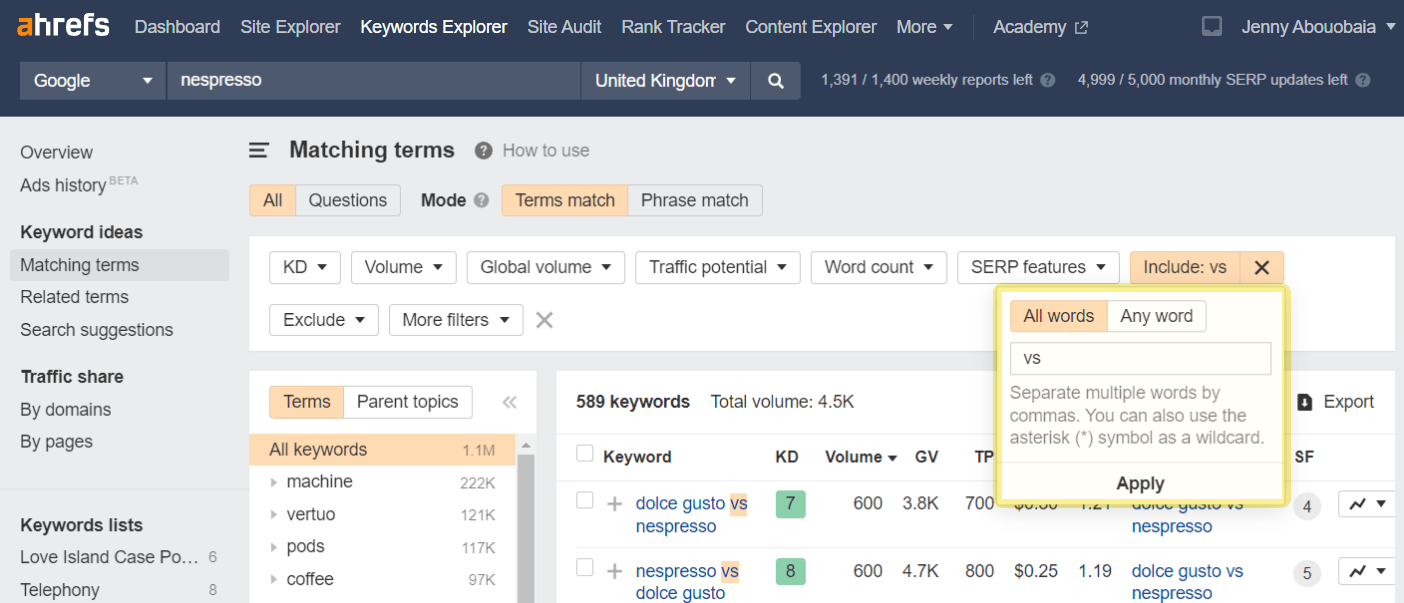 Because you'll likely find it hard to rank for competitive keywords right out the gate, I also recommend filtering for low-difficulty keywords by setting the Keyword Difficulty (KD) filter to a low number like 25: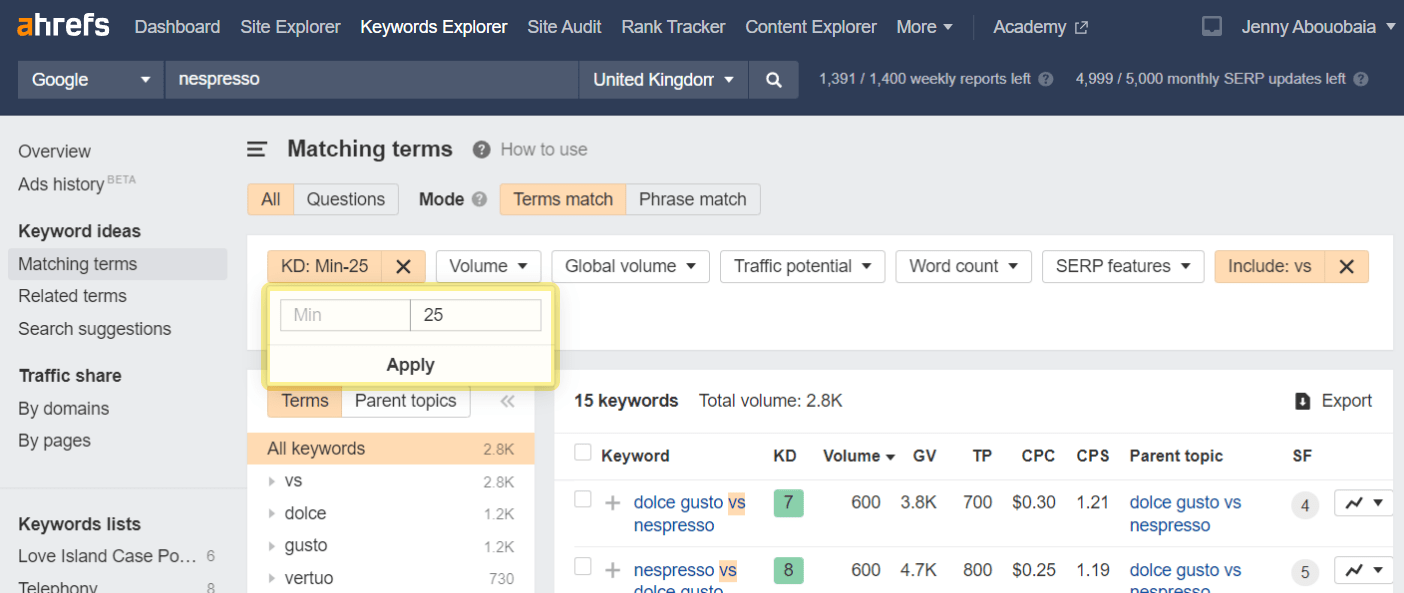 Although I would love to go into more detail, a full step-by-step guide is an entire article in itself. Luckily, our head of content, Joshua Hardwick, has already put that together for you.
Step 3. Build your site
Now it's time to register a domain and build your site. It doesn't matter all that much which domain registrar or hosting provider you use. Just pick one, choose a brandable domain, and get things registered.
For the actual site build, I recommend using WordPress because it's super customizable and completely free. However, the default installation looks pretty dire, so it is important to consider using a good theme with a built-in page builder.
This will allow you to use the drag-and-drop functionality to create high-quality aesthetics on your site that can stand shoulder to shoulder with known brands and retailers. This is important because it helps to establish trust and authority with site visitors.
We will go through this in more detail below. But there are a few things to consider for the build process (aside from the aesthetics).
Choose the right theme
Consider conversions
Think about E‑A-T
Choose the right theme
Your theme is going to be the core foundation of your site. The theme is going to determine how easily you can make changes to the design and how it performs.
As someone who has had to "de-thrive" many affiliate sites, I think it's important to choose the right theme right out of the gate.
This is as trying to change it later down the line to make improvements is going to be a big job.
Many people think it is easier to just choose any theme and use a popular page builder. After all, page builders, such as Elementor, give you the ability to use the drag-and-drop functionality to create beautiful aesthetics without being a top web designer.
The only issue with page builders is they often add lots of unnecessary code to your site, dragging down the performance. Hence, you'll need to get multiple performance-enhancing plugins to work with the page builder to counteract that.
Therefore, it is a good choice to go with a theme that has its own built-in page builder functionality, such as Astra.
There are even themes currently in development like those found on AffiliateFish—which I was recently asked to beta test—that are designed specifically for affiliate sites. Some themes allow you to have everything needed for an affiliate site while maintaining super speed.
Consider conversions
The aesthetic of your site needs to be high quality, as we want the site to look trustworthy. This comes down to the design and the considerations mentioned above.
It is also incredibly important to ensure your site has clear call-to-action (CTA) sections.
A CTA helps to entice visitors to act in a preferred way, such as clicking a link to your recommended retailer, downloading an ebook, or signing up for a mailing list.
Ensuring you have clear CTAs on all your product recommendations and even on your homepage makes it easy to direct visitors to check out the products you recommend so that you can earn those all-important affiliate commissions.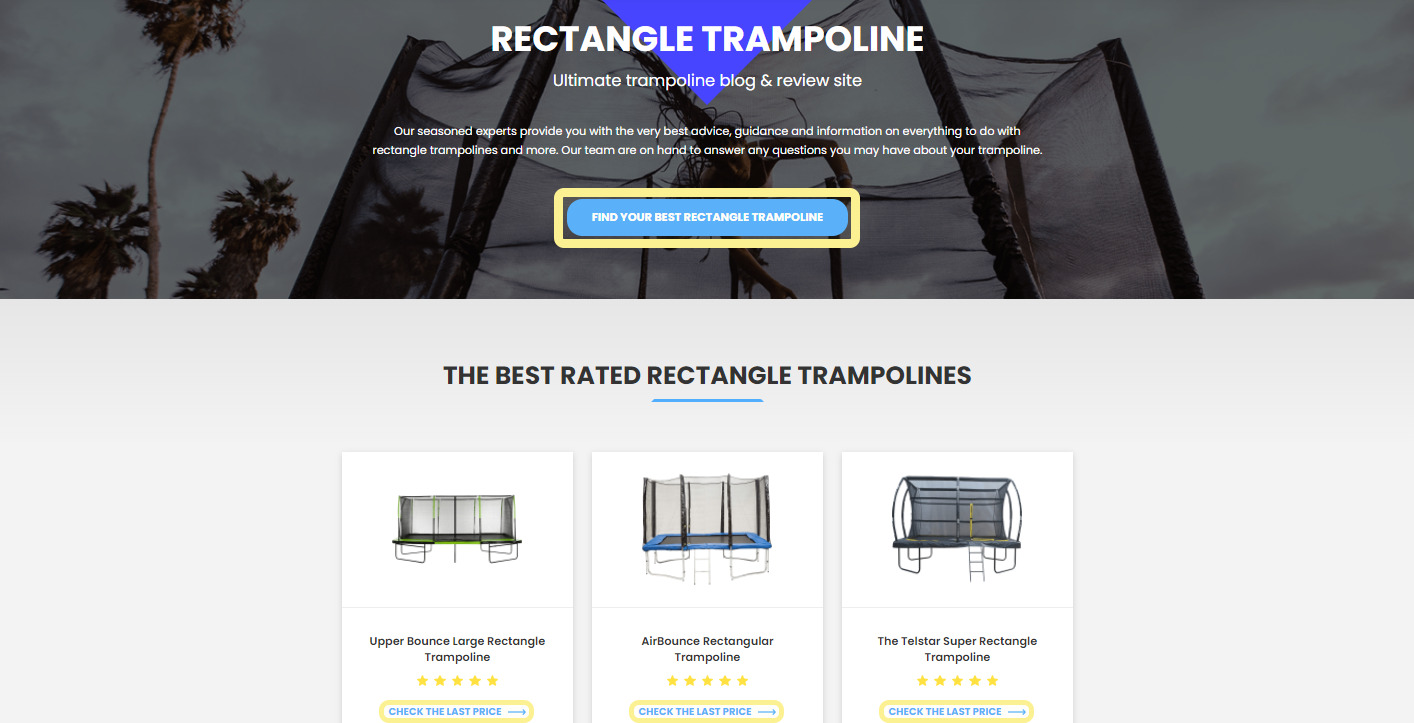 Think about E‑A-T right from the beginning
Expertise, authoritativeness, and trustworthiness (E‑A-T), although not a direct ranking factor, is now more talked about than ever in the SEO community.
I truly believe at some point, for niche sites specifically, we will see something similar to the Medic update of 2018 across all niches. Google wants to ensure that any advice being given is from authoritative websites and authors.
Ensuring that your website has a clear and comprehensive "about" page and author bios from the beginning will help you to establish your site as a genuine authority.
Your author bios are meant to showcase experience and expertise.
For example, if you run an affiliate site about dogs and your lead editor is a vet, this really needs to be prominently displayed because it gives the articles on your site credibility. This is important for both readers and search engines.
Step 4. Write content
Content is the bread and butter of a niche affiliate site. This is where those all-important affiliate links, which can earn you commissions, will be housed.
Although I would love to delve in here with a step-by-step guide on how to produce epic content from start to finish, that's going to be a topic for a whole other article.
But this guide on creating evergreen content is a fantastic starting point.
But generally, make sure that you write quality content that is unique and engaging. You don't want to be producing generic articles that anyone can copy-paste and slap onto their site.
Also, it is incredibly important to write content for humans, not search engines.
AI-driven content optimization tools have risen in popularity over the past few years. Although they make a great addition for a newbie to understand how well optimized your content is, your articles should do more than just check SEO boxes.
Content should still be written with your audience in mind first and foremost. It should engage your reader and give them the answers they are looking for.
This is what will help you build trust and a loyal readership. This is important because you don't want to be driving new visitors through organic traffic only. You also want to encourage your visitors to return time and time again because they love what you are doing.
Step 5. Build links
Links have always been important for SEO. But now more than ever, links need to be coming from high-quality sources. This has become even more apparent since Google's recent spam update.
This beginner's guide to link building from our CMO, Tim Soulo, will give you the lowdown on what link building is and why it's important.
In terms of what kinds of link building you should be doing, these are my top choices for beginners:
Earned media
Broken link building
Guest blogging
Earned media
Using sites like Help a Reporter Out (HARO), Terkel, and Sourcebottle is my go-to style of link building. Not only do these sites allow you to build high-authority links from top-tier publications like Forbes and The New York Times, but they also help boost E‑A-T.
Broken link building
When it comes to links, broken link building can be an easy way to pick low-hanging fruit.
Guest blogging
This link building technique is an oldie but a goodie! Guest blogging can not only help you build high-quality links to your website, but it can also help you improve E‑A-T and establish yourself as a thought leader in your niche.
For example, if you are a personal trainer building an affiliate site in the fitness niche, having a guest blog featured on a reputable health and fitness site that displays your author bio alongside it will undoubtedly help to promote you as an authority on that topic.
There are a few considerations when using this technique. Luckily, Tim has already put together a complete guide on guest blogging that covers everything: finding the right websites to reach out to, writing the post itself, etc.
Step 6. Rinse and repeat
This part is simple. It is just a case of repeating steps #4 and #5 over and over again until you build enough traffic to reach what you consider to be success.
The important thing is to have patience. Remember, every site is unique. What works and how quickly you achieve success depend on multiple factors. But it will happen. Just give it time!
Final thoughts
Following these six simple steps again and again while scaling as you go is a surefire way to build a profitable niche site.
Choose a niche with high-ticket items, create awesome content, and build links. It's that simple.
Got questions? Ping me on Twitter.